by
Nancy Ryerson
, Staff Writer | October 10, 2013
From the October 2013 issue of HealthCare Business News magazine
The health care industry and the media world have a few things in common.
Both are roiling with changes in funding, staffing and technology. And neither group lacks gaggles of critics proclaiming their demise. Chuck Lauer, a health care media veteran, for one, is tired of the "doom and gloomers" on both sides. If 30-plus years working as publisher of Modern Healthcare taught him anything, it's that times change — and that's almost always a good thing. He spoke with DOTmed Business News about hopes and predictions for health care media, regardless of form.
Filling a need
When Lauer first became publisher of Modern Healthcare in 1976, the industry lacked a news source for the business side of health care, he says. By filling that need with experienced business reporters and strong leadership, he built a brand that powered through the decades and lives on after his tenure there ended in 2007. He sees a similar lack of useful information in health care media today as the U.S. health care system faces its most significant changes to date. "I think there's more need for health care publishing today than any time in our history, because there's so much confusion," says Lauer. He says he hopes to see more publications, online or otherwise, emerge that cater to different niches within the health care industry and address how reform will impact them. "If I were in the business today, I'd be starting different publications to address the needs of physicians, administrators, CEOs and others within the industry," says Lauer. Though many publications today struggle to make ends meet — American Medical News, the publication of the American Medical Association, folded in September — Lauer still thinks smart journalists can and will find effective ways to deliver timely information.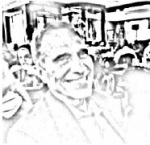 Huh?
One problem Lauer notes in health care reporting today is a lack of clarity and conciseness. "A lot of articles I read, I'm more confused after I read the article that I was before, and I'm fairly conversant in all of this," he says. "I think there has to be a simplification of information." Even more troubling, he sometimes spots factual errors in health care reporting. "There's a lot of misinformation and quackery in the field, people who are selling things to the public who should really be in jail," Lauer says. "Reporters are listening to them and aren't checking their facts."