From the December 2013 issue of HealthCare Business News magazine
By Kristen K. DeStigter
According to the United Nations Children's Fund, for every 1,000 live births, at least 63 infants die before their first birthday in Uganda. Many of those deaths come from complications that could have been predicted by ultrasound technology. The situation also contributes to the country's high infant mortality rate, with 310 out of every 100,000 women dying in childbirth, and is the leading cause of death for girls ages 15 to 18.
Imaging the World (ITW) was founded in 2008. Our mission is to bring medical expertise and high quality, low-cost health care to most remote and under-served areas worldwide by integrating simple ultrasound technology with training, local capacity building and community support. It is much more than modern technology alone — it is a system solution.
After long days performing ultrasound exams on the border of Kenya and Sudan while investigating a parasitic disease as part of a research team in the early 1990s, I would join my colleagues in an impromptu health clinic, conducting physical exams. Each day, we found that by using ultrasound we were able to discover potentially dangerous conditions, such as breech presentation, multiples or placenta previa in late pregnancy.
As a result, we were able to counsel patients to get to a health care facility where they could get appropriate, lifesaving treatment in time. This made me wonder how one could make ultrasound accessible to people in need in the most remote areas of the world; but at that time, the lack of resources and trained personnel in areas like this made it impossible to make diagnostic imaging available for critical diagnoses; and I knew that traditional methods of ultrasound outreach were simply not sustainable to make a difference for the community in the long-term.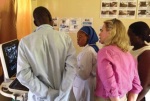 Over the years, I considered the problem of bringing a permanent ultrasound solution to the most rural areas of the world, but it wasn't until 2007, when I began working with Dr. Brian Garra, that a solution came to light.
Dr Garra had been promoting volume scans for ultrasound diagnosis since 2001. He proposed that we use entirely new ultrasound protocols using volume scanning to reduce the extent of operator training needed while still maintaining high diagnostic quality. Volume scans replace each still ultrasound image with a series of images that is gathered by sweeping the transducer across the organ or body area of interest, capturing all of the information needed to make a diagnosis. This eliminates the need for physician scanning, allowing a trained machine operator to gather images without knowledge of internal anatomy.