by
Lauren Dubinsky
, Senior Reporter | February 13, 2014
From the January/February 2014 issue of HealthCare Business News magazine
Personalized medicine originally started off as a vague idea,
but recently it has blossomed into something that is dramatically changing the health care world. When the important connection between personalized medicine and Big Data was made, it ushered the health care industry into an era of open information.
Medical records are starting to become more digitized and electronic databases are beginning to fill with data and radiology has to make sure to keep up. Dr. Eliot L. Siegel, professor of diagnostic radiology at the University of Maryland School of Medicine, spoke with DOTmed HealthCare Business News about this new era and the changing practice of radiology.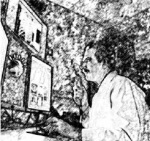 The realm of Big Data
"In order to be able to personalize treatment for a patient, we need to enter into the realm of Big Data," says Siegel. Lab data, clinical data and when available, genomic data needs to be gathered, combined and analyzed.
The big challenge in imaging informatics right now is having that data available when it's needed. In the past, patient records were not set up in a way that allowed for a seamless exchange of information, but that is starting to change.
"I think we're starting to see the beginning of it, really, we've just so far scratched the surface as far as what I would refer to as clinical informatics, which is the ability to take all of the information in the electronic medical record and make all those available," says Siegel.
The evolution of the electronic medical record initially started with just paper documentation that individual physicians had in their individual practices, but as time went on, there was much more of a consolidation of records between hospitals.
Siegel says that in the future, physicians will have the ability to search the medical records of multiple patients and the practice of medicine will rely less on the specific experience of a practitioner and more on data.
The future of imaging
Siegel spearheaded the National Cancer Institute's Rembrandt Project to find a way to use MRI scans of brain tumors and create a mechanism that can extract meaningful and structured data from them.