by
Sean Ruck
, Contributing Editor | November 20, 2014
From the September 2014 issue of HealthCare Business News magazine
We're witnessing a time of unprecedented leaps forward
when it comes to diagnosing and treating various cancers. Dr. Hossein Jadvar, associate professor of radiology and biomedical engineering at the University of Southern California and the president elect for SNMMI talks about some of the strides we can still expect to see.
HCBN: What do you think will be the big strides forward for cancer imaging 10 years from now?
HJ:
There's a field called theranostics where you design treatment based on a particular biological target. You design an imaging agent — maybe with a radionuclide and then if that target is available – you take the same agent and label it with a different radionuclide — a therapeutic one this time, and go to the exact same place you just imaged and treat that area in a more targeted and localized manner. One area that we're already seeing this is neuroendocrine tumors. They're currently being studied very intensely for the field of theranostics. The same process is being worked out for prostate cancer. This process will likely be expanded to other types of cancers.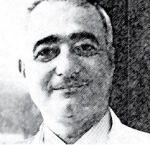 HCBN: What do you believe the challenges will continue to be?
HJ:
I think there are three major obstacles. The first is funding. You need research to do these things. A lot of research is spearheaded by major pharma with the goal to invest in things that will make money, which is fine, but we also need funding from usual sources such as the NIH and other government entities. Unfortunately, the budgets have been reduced.
These have been difficult times, especially for young investigators, to get funding. And in a few years if that doesn't change, the U.S. will lose its prime status as top researcher. This could create a domino effect— researchers are already going to other countries in Europe and Asia to get the support for research. We need to pay attention to make sure that one of the things that has been a strength of the U.S. continues — research and all that associated with it that attracts talent from all over the world.
The second thing, the supply of radioisotopes has been difficult. It's mindboggling that in the U.S., one of the richest countries in the world, we don't have a domestic supply of molybdenum. And we're dependent on countries that have old reactors in need of renovation or closing. Why we don't have a domestic supply is beyond me.