MEDICA 2014 and COMPAMED 2014 benefit from strong international attendance
by
Robert Garment
, Executive Editor | November 20, 2014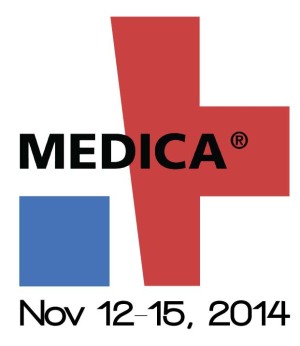 MEDICA 2014, the World Forum for Medicine, and COMPAMED 2014, which bills itself as High Tech Solutions for Medical Technology, wrapped up their annual expos last week with a banner showing. According to Joachim Schafer, Managing Director of Messe Dusseldorf, "We saw very large numbers of international visitors attend both shows and that gave the medical device technology providers, as well as their suppliers at MEDICA and COMPAMED, the exposure and impetus they need to boost their export business."

Big numbers mean big business
The more than 4,800 exhibitors at MEDICA 2014 and the more than 720 exhibitors at COMPAMED 2014 showcased the latest product innovations and ideas for high-quality and affordable health care to almost 130,000 attendees in Dusseldorf. Approximately 84,000 of those visitors came from countries other than Germany, In fact, those attendees represented more than 120 countries. The visitors' decision-making authority at MEDICA 2014 was again very high: over 70% of the attendees have a say or are decisively involved in purchasing decisions and an additional 10% are involved in a consulting capacity. There were also 399 U.S. exhibitors at MEDICA 2014, with 185 presenting their technologies within the two successful U.S. Pavilions, organized by Messe Dusseldorf North America.

MEDICA and COMPAMED: A stage for the global health care industry
The latest reports from industry associations underscore just how important MEDICA and COMPAMED are as drivers for suppliers' international business. 85% of the medical device technology companies surveyed in the German Medical Technology Association BVMed expect sales to rise over the previous year, driven especially by dynamic export business. Marcus Kuhlmann, Head of the Medical Technology Association in SPECTARIS, the German Hightech Industry Association, explained: "This year we expect business activity at the 1,200 Germany medical technology manufacturers to exceed EUR 25 billion for the first time, with growth abroad developing more strongly than on the domestic market. Exports account for 68%". Regarding the trade fair business, Marcus Kuhlmann remarked: "MEDICA continues to be an outstanding venue for companies to present themselves and their products and is therefore a 'must'."

Successful re-launch of conference program
To also meet the needs of international visitors, MEDICA's accompanying conference program has been fundamentally restructured over the past two years - with sessions not only geared towards German visitors. This year saw more events held in English and conferences held on very specific topics of special interest to the international community. The MEDICA EDUCATION CONFERENCE, organized by the German Society for Internal Medicine (DGIM), for the first time this year offered an impressive multi-disciplinary program: 280 events with 350 speakers on four days emphasized the link between science and medical technology. Highlights of the program included events on sonography, latest insights into the treatment of hepatitis C, the introduction of the MiroSurge surgical robotic system as well as lectures on "Medical and Social Freezing". "Participant feedback on the quality of topics and speakers was very positive," said Prof. Dr. Hendrik Lehnert, President of the MEDICA EDUCATION CONFERENCE.


You Must Be Logged In To Post A Comment
Registration is Free and Easy.
Enjoy the benefits of The World's Leading New & Used Medical Equipment Marketplace.
Register Now!