by
Lauren Dubinsky
, Senior Reporter | January 27, 2016
Known primarily for his best-selling legal thrillers, John Grisham's latest novel explores the impact focused ultrasound had on a fictional patient with a malignant brain tumor.
Just like every other new medical technology, the adoption and development of focused ultrasound has been slow, but "The Tumor" may play a part in speeding things up.
"The development and adoption of any new medical technology, particularly a therapeutic technology is a process that can often take decades," Neal Kassell, founder and chairman of the Focused Ultrasound Foundation, told HCB News.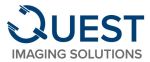 KenQuest provides all major brands of surgical c-arms (new and refurbished) and carries a large inventory for purchase or rent. With over 20 years in the medical equipment business we can help you fulfill your equipment needs

The first patient with prostate cancer was entered into a clinical trial for focused ultrasound in 1985, but the technology didn't receive FDA approval for that indication until 2015. It takes such a long time because the technology has to first be developed, there needs to be a proof of concept and preclinical trials and then clinical trials need to be conducted.
"One of the basic tenets is that to navigate this technology through this complicated [process] requires that all of the stakeholders be informed as to the potential benefits of focused ultrasound," said Kassell. "Increasing awareness of what this technology could do when it is fully developed is essential."
Kassell feels that the book is a perfect vehicle for increasing awareness. He also mentioned that increasing awareness goes hand-in-hand with an increase in funding to support focused ultrasound research and other activities.
"The Tumor" is about a 35-year-old father named Paul who was diagnosed with a malignant brain tumor. Even though he received invasive brain surgery, radiation and chemotherapy, he passed away nine months after his diagnosis.
The book then takes the audiences to an alternate future in which Paul is diagnosed with the malignant brain tumor in 2025, but receives focused ultrasound treatment. The focused beams of ultrasound energy ablate Paul's tumor and he is able to get back to his everyday life.
The tumor still eventually ends up taking Paul's life, but the point is that the focused ultrasound treatment turned a fatal disease into a disease that is chronic, but manageable. The
book is now available
free of charge.
But these benefits don't occur only in the fictional world; a Parkinson's patient
spoke at TEDxCharlottesville
recently and shared how participating in a focused ultrasound clinical trial dramatically transformed her life.