For patients, social media is much more than selfies and cat videos
by
John W. Mitchell
, Senior Correspondent | June 06, 2016
Health IT
Population Health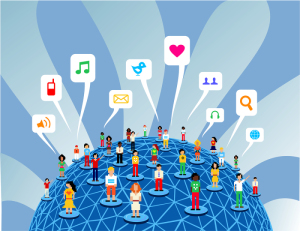 Emerging social media sites targeting patients are increasingly playing a vital role in societal "information sharing" research announced today by the University of Warwick, Coventry, U.K. Sites such as HealthUnlocked in the U.K. allow patients to tap into a community with the same health challenges for moral support, shared information about health care providers and practical advice to manage their medical condition.

"People receive care from each other — moral support, encouragement, hope. A formal health system is not set up to offer this at a community level," Eivor Oborn, professor of health care management at Warwick Business School and lead study author, told HCB News. "Chronic illness management is part of everyday life for an increasing number of people. Learning how to support each other … especially for behavior changes, such as weight loss … rather than relying only on professional advice, is important."

Oborn said she was most surprised by the number of different uses that data and information from social sites offer. The research, which was conducted over four years, consisted primarily of interviews with online community startup sites. It found that social media sites generated different kinds of value for stakeholders in health care. This included: rating services; connecting people and companies; assisting in pharmaceutical R&D; and tracking the different types of patients relying upon social media for support.

The research found that social media serves a supporting role, not as a replacement for medical care, added Oborn. She also said that their findings extend to other cultures with developed social media, such as the U.S.

"The health system gives professional advice and treatment that is effective and timely. This will always be needed," she said. "It has been augmented (with social media) and can be complemented with other forms of support." She added that users of such sites generally are not so much seeking new information about their medical condition, but "receiving care" from other users.

Social media users can also report their outcomes from different treatments. Oborn said this is useful in the U.K. where physicians are required to report on directed treatment targets. She said that as more patients join online communities, these sites become a more legitimate part of the health care "ecosystem". Furthermore, she reports that she and her team were fascinated by how different forms of value evolved from rating information, connecting people, tracking outcomes and profiling disease. But at their core, medical social media are still about what they have always been: people.

"Helping each other does not need to cost any more than helping your neighbor out – this is what living in a community has always historically entailed," said Oborn.
You Must Be Logged In To Post A Comment
Registration is Free and Easy.
Enjoy the benefits of The World's Leading New & Used Medical Equipment Marketplace.
Register Now!