Seven tips to bring patient-centered care into imaging: SIIM opening session
by
John W. Mitchell
, Senior Correspondent | June 29, 2016
Health IT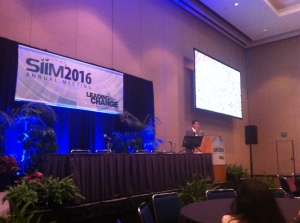 At the opening session of the Society for Imaging Informatics in Medicine (SIIM) annual conference in Portland, attendees were asked to rethink the way their imaging departments think about patients.

The call came from Dr. Rasu Shrestha, chief innovation officer at the University of Pittsburgh Medical Center (UPMC) in a presentation entitled "Race for the Care" — and it contained actionable advice.

To illustrate his point, he invited a Portland resident named Laura Janisse to address the assembly. Janisse has 15-month-old twin boys, one of whom had developmental challenges requiring an MR exam when he was about a year old. She choked up at one point, recalling for the attendees how lack of communication and poor processes exacerbated what was already a stressful and challenging situation.

"After we got my son home I asked myself how could this experience have been better?" she told the crowd. After clarifying that she certainly saw value in the information the MR provided, she posed a question: "I wonder what you could learn if you asked your patients how they felt?"

Shrestha is no stranger to these questions — or the answers they elicit. His facility, UPMC, began redesigning its patient care delivery two decades ago and was even the subject of a whopping 40-page Time magazine article on the failings of the U.S. health care system in 2013 by Steven Brill.

He said the introduction of technology, software platforms and other innovations has not changed the fundamental fact that radiologists still tend to see patients as images, rather than people.

"We're more reclusive, isolated, and lonely because we're stuck to our computer screens and speech mics. It's too easy to hide from the patient. I don't think that's a good thing," he told the audience. "We mean well. But we've become digital doctors. We're not doing the most natural thing in the world, which is to talk to each other and talk to our patients."

The key to patient-centered care, he stressed, is not to be data rich and information poor. To achieve this end, Shrestha outlined seven "secrets" to redesigning imaging culture.

Forget what you know – Challenge the status quo, he urged. As example, he said that at UPMC "It's no longer about how many images we can do or how many beds we can fill.". This was a reference to the outcome-based goals under the Affordable Care Act.

Humanize care – "The patient is at the other end of care," said Shrestha. "We have a currency of trust that the patient gives us, that we will make them okay — and we must not abuse that trust." He said people may never remember what a doctor tells them, but they will remember how a doctor makes them feel.

You Must Be Logged In To Post A Comment
Registration is Free and Easy.
Enjoy the benefits of The World's Leading New & Used Medical Equipment Marketplace.
Register Now!