A look at factors driving imaging platform development
by
John W. Mitchell
, Senior Correspondent | July 11, 2016
Health IT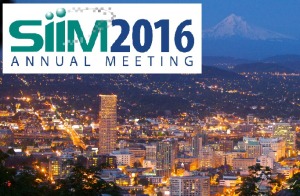 Vendors attending the recent SIIM meeting in Portland displayed reading platform innovations and functions that reflect rapidly evolving health care informatics trends. Carestream, for example, cited studies by the National Institutes of Health (NIH) and the Emory School of Medicine that enable collaboration for facilities with multimedia reporting, which it has engineered into its Clinical Collaboration platform

"The NIH and Emory studies show that interactive multimedia reports enable significant time savings (on average, of nine minutes) for clinicians assessing tumor burden, increase referral satisfaction, maximize patient satisfaction, and retention," Kiran Krishnamurthy, worldwide product manager for Healthcare Information Solutions, told HCB News. "Our interactive reports contain embedded hyperlinks, key images, bookmarks, measurement tables and disease progression graphs."

According to Krishnamurthy, the Emory studies found that about 80 percent of physicians preferred to refer peers and patients to facilities with such multimedia reporting capability.

He also participated in a SIIM panel discussion titled "Communication and Collaboration Using Enterprise Viewers from the EHR." Krishnamurthy explained that their Vue Motion universal image viewer also allows DICOM and non-DICOM images to be viewed side-by-side.

Such EMR-driven access to patient files also offers a single point of reference to review a wide range of data formats. These include images, videos, waveforms and PDF-formatted interactive multimedia reports generated as part of diagnostic, procedural evidence-related image acquisition.

"The majority of our visitors at SIIM expressed interest in a modular enterprise imaging platform that allows them to deploy a module based on their current needs ... and to add additional modules as their imaging needs evolve, without requiring major investment or a forklift upgrade," said Krishnamurthy.

Konica Minolta was at SIIM displaying its Exa enterprise imaging platform. The Exa platform also provides vendor-neutral archiving (VNA) with a universal viewer for both DICOM and non-DICOM images supported by zero-footprint operation. According to Emily Lafella, Women's Imaging Specialist at Konica Minolta Medical Imaging, the Exa platform is a mammography viewing platform, in addition to providing PACS, RIS, EHR, billing, and VNA capabilities.

"The Exa Mammography platform offers Server-Side Rendering, universal diagnostic quality reading on any system," Lafella told HCB News. "It's very fast – in fact, instant — and offers providers the opportunity to keep mammography readings in-house rather than outsourcing." She said this enterprise imaging system allows physicians to access both DICOM and non-DICOM images – which is especially important.

"One of the takeaways from SIIM is that doctors want to be able to view both DICOM and non-DICOM images across specialties in their enterprise," she explained. "This includes reading radiology, cardiology, ultrasound, dermatology, and endoscopy, through their electronic health record."

She added that surgeons and referring physicians also want their access to be web-based. And in addition, radiologists want access to large diagnostic images such as breast tomography, including prior images, quickly. The Exa mammography solution opens 2-D and 3-D exams immediately with no pre-fetching, regardless of the Internet connection.

According to MarketsandMarkets.com, the global VNA market is estimated at $165.3 million in 2013 and is poised to reach $335.4 million by 2018.
You Must Be Logged In To Post A Comment
Registration is Free and Easy.
Enjoy the benefits of The World's Leading New & Used Medical Equipment Marketplace.
Register Now!