by
Lauren Dubinsky
, Senior Reporter | August 29, 2016
From the August 2016 issue of HealthCare Business News magazine
Philips is working to advance medical technology procurement and maintenance programs at the health system's Mackenzie Richmond Hill Hospital and the Mackenzie Vaughan Hospital, which will be open in 2019.
Previously, Mackenzie looked at its technology as separate systems, instead of seeing it as components that can be integrated. Now that Mackenzie wants to be a "smart" hospital, it's working with Philips to integrate all of its technology.
If there is a code blue in the current hospital environment, a page is sent out through overhead speakers, and then the code team assembles to grab a cart and rush the patient into the operating room.
In the new hospital environment, the team will be paged independently and they will have identification tags that track their location. In addition, the infusion pump will know that a code was called and stop administering drugs to the patient.
"You are integrating all of the disparate systems around the workflow that exists in the hospital today," says Bierbaum. "You couldn't do that with a one-off buy of equipment, but you can do that when you have a long-term relationship with a vendor like Philips."
GE Healthcare also has a presence in the U.S. market. In May, it signed its first MES contract in the U.S. with Heritage Valley Health System in Pennsylvania, which is a 14-year strategic relationship that covers diagnostic imaging.
GE is working with the health system to optimize its current install base and make sure the level of technology is consistent and stays at a predictable price over the 14-year period. The company anticipates signing many MES contracts nationwide.
"As the industry is going through tremendous change, not only in where care will be delivered, but also in efficiency of care required to get rising health care costs under control, GE has expertise, products, services and capabilities that, when brought together and aligned around the value a customer is trying to create, can help position our customers to achieve the goals they are working toward more efficiently and faster than is possible on their own," says Helen Stewart, managing principal of GE Healthcare Partners.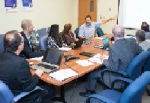 Bump in the road
Even though MES contracts bring many benefits to hospitals and health systems, they don't come without challenges. Mackenzie Health had a number of challenges to address in order to get the deal done.