by
Lauren Dubinsky
, Senior Reporter | September 09, 2016
"We have fantastic multimodal imaging devices today. It's astonishing how the field has developed from the early days of PET to now. [We have] integrated PET/CT and PET/MR systems with amazing image quality," said Dr. Simon Cherry, distinguished professor of biomedical engineering at the University of California Davis. "You might ask, 'What more is there to do at this point?'"
At the World Molecular Imaging Congress (WMIC) conference at the Jacob K. Javits Convention Center in New York, Cherry told the attendees that his team is working on a total-body PET scanner that has 40 times greater sensitivity than current clinical PET/CT scanners.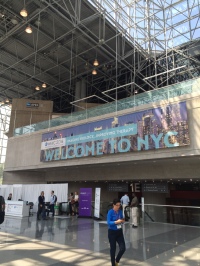 For those who need to move fast and expand clinical capabilities -- and would love new equipment -- the uCT 550 Advance offers a new fully configured 80-slice CT in up to 2 weeks with routine maintenance and parts and Software Upgrades for Life™ included.

The way that whole body PET imaging is currently done is to pass the patient through the scanner and image a small segment of the body at any one time because of the limited axis of view. But the new scanner will be able to image the entire body at once.
The industry has been talking about this concept for decades, but many challenges have hampered development. One of them is the scale of the system — it requires 250,000 detectors and 5,000 channels of electronics.
Cost is also a major hurdle — PET/CT already costs about $2 million, and this new, large scanner is going to be more expensive. Also, for the scanner to become a reality, it needs higher-performance detectors, good time of flight (TOF), higher spatial resolution and a way of dealing with the massive amount of data.
But Cherry believes that the benefits outweigh the challenges. The massive amount of data will help them reconstruct high spatial resolution and will also provide them with more quality insight.
The data will also be collected more quickly. It typically takes about 10 minutes to conduct a total body PET scan, but with the new scanner they can cut that down to 15 to 30 seconds.
Since the new scanner will provide greater sensitivity, the radiotracers will last longer. For example, C11 typically lasts about 1 to 1.5 hours before the signal disappears and there's noise, but with the additional sensitivity from the new scanner that can go well beyond three hours.
The injected dose can even be reduced to about ~0.15 mSV, which is very minimal. Cherry is hoping that will expand the use of PET in new populations such as adolescents, pediatrics and those with chronic diseases.