Sectra shows off collaborative and machine learning developments at RSNA
by
John W. Mitchell
, Senior Correspondent | November 30, 2016
Health IT
RSNA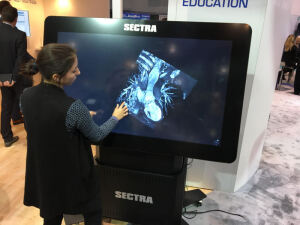 Sectra, a medical IT and secure communications company, offered both workflow and big data modeling products and previews at the 2016 RSNA meeting, underway this week in Chicago.

The company's recent initiatives are motivated by a long held practice among physicians: peer review and cross-specialty consulting. These principles provide the foundation of its Peer Review platform, now available for radiologists to gain greater increased insight into their patient diagnoses.

"Peer Review gives instant feedback and stats between radiologists to improve the workflow," Hans Lugnegard, product manager told HCB News. "It allows collaborating radiologists to read priors, document stats important for outcomes and quality metrics, improve their skills and, of course, improve patient outcomes."

The company is also developing a similar platform for future use between radiologists and referring and primary care physicians.

According to Lugnegard, its Peer Review product platform documentation also acts as a legal record.

Sectra believes there is opportunity in this realm of colleague discussion. Their product developments center on a health care truth that radiologists play a central role in the care pathway for almost every patient. However, the sidebar consulting conversations between peer radiologists, as well as consulting and referring physicians, don't always get documented.

A similar product in development will enable referring physicians, such as primary care doctors and surgeons, to more easily discuss patient cases with radiologists in a documented environment. This information sharing will likely provide new insights for each of the specialists involved, improving patient care, according to Sectra reps.

At its RSNA booth, representatives from the "Best in Klas" customer service company were soliciting feedback from physicians on this product development.

"This platform, for example, could eliminate one of the most expensive meetings in a hospital, the tumor board," Elin Kindberg, product manager for Sectra told HCB News. "These meetings are costly because clinics must close while the doctors convene to review cases. With this product, they will be able to do this remotely."

Sectra also showcased its predictive modeling research, for which it is also seeking input from booth visitors. This effort ranges from the relatively simple – but time saving – application of automatically labeling spine vertebrate on images. At the other end of Sectra's machine-learning initiatives, visitors can view an application that predicts the likelihood of a disorder based on the image and any other noted patient history information.

The company is also demonstrating Global Illumination, the latest enhancement to the Sectra Table, an interactive and pre-staging tool offering 3-D views of the entire body. The Sectra Table provides preloaded anatomy and case files; custom cases can also be added to its directory. Global illumination allows real life 3-D interplay with light to present views in a realistic setting.

Sectra was named 2015/2016 "Best in Klas", an independent health care vendor solution rating agency. It received the award for the third consecutive year in the U.S., and second year globally, for customer satisfaction.
You Must Be Logged In To Post A Comment
Registration is Free and Easy.
Enjoy the benefits of The World's Leading New & Used Medical Equipment Marketplace.
Register Now!