Most Americans don't trust health information technology largely because of the recent surge in cybersecurity breaches and physicians' disinterest in adopting it.
That was among the findings of a new Black Book national panel poll that surveyed 12,090 adult consumers from September 2016.
For consumers who engaged with health information technology at a hospital or physician practice last year, 57 percent were skeptical of its overall benefit. As a result, 87 percent are unwilling to share all of their medical information.
Story Continues Below Advertisement
The PowerServer RIS/PACS is a single database application, essential to reducing redundant work, limiting manual data entry, and increasing consistency throughout healthcare practices. Click to learn how it will help you improve patient care and more.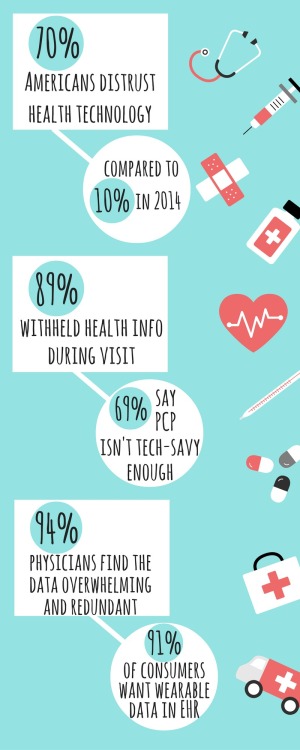 Almost all of the respondents were concerned that their personal health information is being shared with retailers, employers and/or the government without their consent. More specifically, pharmacy prescriptions, mental health notes and chronic condition data concerned 90 percent, 99 percent and 81 percent respectively.
Up to 70 percent of consumers distrust patient portals, medical apps and EHRs, but they are interested in using health and activity trackers. Physicians don't share the sentiment, and in fact, 94 percent consider wearable data to be overwhelming, redundant and unlikely to make a clinical difference.
Ninety-four percent of consumers with health or activity trackers reported that their physicians informed them that the practice had no capability or interest in coordinating wearable data through the EHR.
"In this age of health care consumerism people want to receive care through technologically-enabled alternatives like telemedicine visits, secure email communications with their practitioner, and immediate access to records and scheduling," Doug Brown, managing partner of Black Book Market Research, said in a statement.
Until reimbursement shifts to value-based models, some of the innovative and effective health technologies might continue to be a hard sell to hospitals and physicians. In addition, patients' skepticism of HIT needs to be addressed going forward.