by
Lauren Dubinsky
, Senior Reporter | February 22, 2017
The global MR systems market was valued at $5.45 billion in 2016 and is expected to hit $7.52 billion by 2021, with North and South America leading the charge, according to a new Technavio report.
A major driver of the market is the development of MR-compatible pacemakers, which are allowing providers to utilize cardiac and breast disease imaging techniques that cannot be performed when implanted devices contain ferromagnetic material.
MR imaging is primarily used for diagnosing disorders in the central nervous system and to guide radiosurgery for intracranial tumors and arteriovenous malformations. The global MR systems market for brain and neurological disorders is expected to reach $2.61 billion in four years.

Quest Imaging Solutions provides all major brands of surgical c-arms (new and refurbished) and carries a large inventory for purchase or rent. With over 20 years in the medical equipment business we can help you fulfill your equipment needs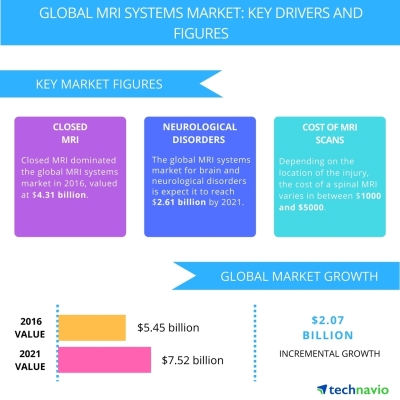 The market is highly competitive for manufacturers, so many have gotten involved in strategic partnership, mergers and acquisitions. In March, GE Healthcare partnered with Columbia University Medical Center to advance MR research.
In May, Siemens Healthineers partnered with Case Western Reserve University and University Hospitals Case Medical Center to
further develop MR Fingerprinting.
PET/MR hybrid imaging systems are becoming more popular as applications in breast and prostate cancer have been developed. A University of Michigan
study published in July
found that PET/MR improves the accuracy of image-guided prostate biopsies.
Companies such as Philips Healthcare, Aspect Imaging and MR Solutions have launched indigenous PET/MR systems. Philips' Ingenuity TF whole body PET/MR system received FDA clearance in November 2011.
The
Ingenuity TF features
a stand-alone time-of-flight PET scanner and MR scanner, and rotating turntable, letting patients connect with each machine. The unit allows doctors to get sequential PET and MR images in the same session.
Another trend driving the market is tele-imaging, which is the solution to providing quality health care in remote areas. Researchers are currently looking into using inexpensive and readily available technology and equipment to develop an affordable tele-imaging platform.
Tele-imaging is a trend in both developed and developing countries including the U.S., Germany, Japan, India, Brazil and China.
"The introduction of fully automated, versatile, and easy-to-use imaging systems has led to the significant expansion of teleradiology and tele-imaging in remote areas," Srinivas Sashidhar, a lead analyst at Technavio, said in a statement.
Other players in the global MR systems market include Hitachi Medical Systems, Toshiba Medical Systems, Biophan Technologies, Bruker, Esaote, Fonar, Mindray, Neusoft and Ningbo Jansen NMR Technology.