by
John W. Mitchell
, Senior Correspondent | March 01, 2017
3) Cybersecurity, or rather insecurity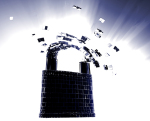 In an HIMSS survey, two-thirds of respondents reported a significant security incident and had only an average confidence level that they were prepared to defend their institution against a cyberattack.
Chris Strand, senior director, compliance for Carbon Black, which ran near-continuous presentations on the issue of cyberattacks, said the number of daily attacks in health care is "staggering." He said that health care providers must be constantly monitoring their security measures to meet regulatory and compliance expectations.

Midmark Workstations are made to order with customization that can assist with the integration of telehealth and other technology at the point of care, wherever that may be. See more>>>

An HIMSS Leadership and Workforce survey found that 15 percent of non-hospital sites, such as ambulatory centers and long-term care providers, do not have a full-time IT person on staff to monitor cybersecurity. On the positive side, Tom Leary, vice president Government Affairs at HIMSS said there is bipartisan support for health care cyber security in Congress, no matter what reforms to the ACA are adopted.
Cyberattacks and security threats have forced complete adaptation from the marketplace over the past few years. Moreover, industry consolidation and a push for everything digital has created a sort of perfect storm environment for cybercrime.
Keys to mitigating risk include adopting an attitude of awareness, coupled with a proactive approach that consists of an internal assessment and a strategy based on stakeholder consensus, including taking steps to shore up infrastructure weaknesses, implementing internal policies and incorporating a training plan across the organization that promotes buy-in.