by
John W. Mitchell
, Senior Correspondent | March 01, 2017
To quote Arthur C. Clark, author of 2001: A Space Odyssey, "Any sufficiently advanced technology is indistinguishable from magic."
But in health IT, things that recently seemed like the stuff of make-believe are now entering the market. At last week's HIMSS meeting in Orlando, Florida, many technological concepts — long predicted, noted and speculated upon — appeared marketable for the first time, (no doubt leading to numerous "A-ha!" moments in many languages among the over-40,000 attendees from around the world).
Here are four trends in particular that HCB News observed up close and personal at #HIMSS17.
1) Equipment is only one piece of the puzzle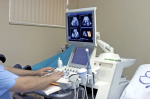 Equipment is still important, just as phones are still important. But there's a world of difference between the old handset and a smartphone.
The apps equivalent of the smartphone in the health care technology sector is the ability to merge and make all data functional to take care of patients. Such insight helps with everything from equipment productivity to patient dosing safety.
Konica Minolta, for example, introduced its
secure enterprise Exa system
that offers instantaneous, server-side viewing and analyses. The platform — which also has an app for mobile devices — allows staff to work across clinical departments.
Exa also syncs with billing, EHRs and scheduling platforms for improved productivity that removes the harsh bumps of operating silos so jarring to patients.
"It's fair to say that we've been in a catch-up cycle on the software side as an industry, where the hardware was generating significant amounts of information that was fundamentally going unused," John Flannery, CEO of GE Healthcare
said in an interview with HCB News
. "In that regard we're harnessing the data and analytics capabilities that the hardware has already enabled for a number of years."
The GE Health Cloud represents a major investment by the company to generate greater analytics to compliment the hardware that may already be in-hospital.
With the emergence of predictive modeling and artificial intelligence, physicians are also changing the way they practice medicine. At HIMSS, Dr. Kevin Dellsperger, vice president and CMO at Augusta University Hospital shared the benefits his facility has experienced using a new population management and informatics platform.
He described the Philips IntelliVue Guardian analytic support platform as an "early warning" system that makes decisions on two of their highest patient risk units. IntelliVue reveals subtle changes in respiratory oxygen levels four to six hours before a cardiac arrest, resulting in an 88 percent reduction in codes on the units, and saved lives.