iCAD announced on Monday that its PowerLook Tomo Detection solution — part of the company's PowerLook Breast Health platform — received approval from the FDA.
PowerLook Tomo Detection is a concurrent-read computer-aided detection solution for digital breast tomosynthesis exams. It automatically assesses each tomosynthesis plane and identifies suspicious lesions.
Story Continues Below Advertisement
As a Master Distributor for major brands Barco, Philips, and Sony, we offer custom imaging solutions. With our renowned OEM Solutions and Service/Repair Center, Ampronix is a one-stop shop for HD Medical LCD Displays--Printers--Recorders--4K Cameras
Those suspicious areas are then blended onto a 2-D synthetic image so the radiologist has a single enhanced image to work with, helping them navigate the hundreds of images tomosynthesis generates.
"This not only helps reduce the reading time and improve the reading experience for radiologists, but it can also provide radiologists with an added level of confidence," Dr. Justin Boatsman, medical director and diagnostic radiologist at Intrinsic Imaging, LLC, said in a statement.
Boatsman took part in a U.S. clinical study that investigated PowerLook Tomo Detection. From October 2015 to January 2016, 20 radiologists read 240 tomosynthesis cases both with and without the technology.
The results showed that reading time was reduced by up to 37 percent when using PowerLook Tomo Detection without having any statistically significant impact on sensitivity, specificity or recall rate.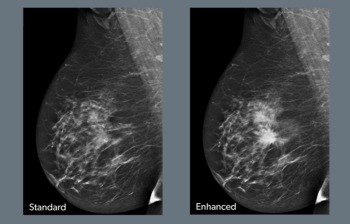 Another clinical study was performed in Europe, which was the basis for PowerLook Tomo Detection receiving CE mark in April.
Dr. Jeff Hoffmeister, VP and medical director of iCAD, explained that PowerLook Tomo Detection is built on the latest deep learning technology.
"The use of deep learning has enabled us to achieve a high detection rate of 92.3 percent," he added.
Deep learning is a branch of machine learning that involves sophisticated algorithms that are trained to analyze patient images and identify visual characteristics of a cancer. The algorithm iCAD used was trained using thousands of images.
PowerLook Tomo Detection is currently only available on GE Healthcare digital breast tomosynthesis systems. Since its received CE mark and Health Canada approval last year, it's been purchased by multiple high-volume breast imaging centers in Europe.
Back to HCB News