RTLS equipment is becoming increasingly sophisticated in both function and form.
HealthCare Business News talked with Sandra Rasmussen, Sonitor Senior Vice President, Global Marketing and Americas Sales, about their new generation of RTLS staff tags and their genesis.
HCB News: The best-selling author, Thomas Friedman, proclaimed that the world is getting flat, and it looks like RTLS badges are as well. Is this a completely new technology for you?
Story Continues Below Advertisement
We offer full service contracts, PM contracts, rapid response, time and material,camera relocation. Nuclear medicine equipment service provider since 1975. Click or call now for more information 800 96 NUMED
Sandra Rasmussen:
No, the SmartBadge™ is built on our SmartTagTM platform, but we have fundamentally changed the form factor to make it easier to wear and more discreet by designing it to best support staff workflow behavior. It resembles a hospital ID badge which makes it less bulky. We know that this translates into better compliance in terms of wearability. At the same time, we have repositioned the microphone that receives the ultrasound signal to maximize ultrasound reception. It is on the top edge of the badge. Staff can confidently wear other hospital credentials alongside or on top of our badge, knowing that the ultrasound signal will always be received - even if it gets flipped around.
HCB News: We've covered your ultrasound technology before but to refresh our memory, can you explain why you use ultrasound as your core positioning technology?
SR:
Ultrasound is more reliable and accurate because it fills the room with its signal. It does not have the kind of multiple limitations inherently found in other signals like RF and IR. The human body can act as a strong insulator, interfering with an RF signal, for instance. IR-based badges can run the risk that the body can block the line-of-sight the technology relies on for receiving a signal. Sunlight and other environmental factors can cause problems with other technologies. Ultrasound has none of these issues, it is a very elegant RTLS technology.
HCB News: You had mentioned that customers were involved in the development of the SmartBadge, can you comment on that?
SR:
Sonitor worked with various caregivers, especially at Sanford, who were early Sonitor SenseTM adopters. We really paid attention to their feedback and were able to collaborate on what we felt were the best combinations of features and form.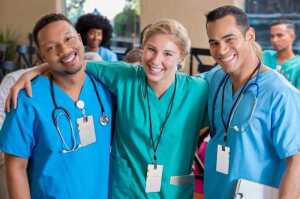 HCB News: One challenge we know users have communicated is that technicians need to get involved in battery changes and this can impact productivity. How has Sonitor addressed that?
SR:
Customers wanted an easier way to replace batteries. The new design has a sliding battery access panel like you would find on a standard remote control for a TV. It will save time and expense. The new badge also has a low battery warning so that there is ample time to change a battery before it needs to be replaced. We have also successfully optimized power consumption of our tags resulting in a longer battery life based upon signal efficiencies.
HCB News: Ensuring staff safety and providing caregivers an easy way to communicate that they are in duress is a top priority in healthcare facilities resulting in RTLS tags that have been designed with buttons. How might staff activate a duress signal on such a flat badge?
SR:
Duress was a feature that was a must. It was a design challenge that we were able to meet. There are two programmable buttons that are different shapes located along the side of the badge. This is so that users don't have to look down to know which button they are pushing and simple press of the button activates an alert that a caregiver needs assistance.