by
Philip F. Jacobus
, CEO | November 08, 2017
Stanley J. Goldsmith received the Lifetime Achievement Award last month at the World Association of Radio-Pharmaceuticals and Molecular Therapy meeting in Vienna.
More than once, I have had the pleasure of being present and in an intimate setting where Dr. Goldsmith spoke, and each time I left with the feeling that I was in the presence of a great man.
Stan Goldsmith, as he is known to his friends, has such an easy way of communicating and has that rare skill for making complicated concepts simple to understand. Dr. Goldsmith is deserving of this Lifetime Achievement Award because he is well known around the world as a specialist in Nuclear Medicine, Nuclear Oncology and Radio-Pharmaceuticals.
After completing his undergraduate at Columbia University, he earned his Medical Doctor degree in 1962 at State University of New York, Downstate Medical Center.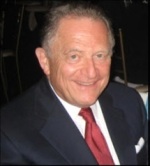 Several times, I've heard him speak about his military service. He was a captain in the medical corps in a battalion in Germany. I always enjoy hearing about his time with the tanks.
After spending many years as director of the Andre Meyer Department of Physics-Nuclear Medicine at Mt. Sinai, Dr. Goldsmith joined Memorial Sloan-Kettering Cancer Center as the director of the Nuclear Medicine Service in 1992, and it was around this time that I first came to know him. In 1995, he joined New York Presbyterian Hospital/Weill Cornell Medical Center.
With more than 45 years in the field, he certainly deserves this special recognition.
And despite all of this, Dr. Goldsmith is still humble and a pleasure to be around. Personally, I have learned a lot from him and I always enjoyed the time I spent with him.
Best of all, it is my belief that there are many people alive today who would not be, if it were not for Dr. Stanley J. Goldsmith. So congratulations to him on this Lifetime Achievement Award!
Phil is a member of AHRA, HFMA, AAMI and the Cryogenic Society of America. He has contributed to a number of magazines and journals and has addressed trade groups.
Phil's proudest achievement is that he has been happily married to his wife Barbara since 1989, who helped him found DOTmed in 1998.