by
John R. Fischer
, Senior Reporter | March 16, 2018
Concerns over correct lead placement in patients may now subside for nurses and clinicians, following the debut of Nihon Kohden's Dimensions Augmented Reality (AR) app this month at the 2018 HIMSS trade show.
The solution, introduced as a complement to the Clinical Excellence Service offerings of Nihon Kohden University, enables medical professionals to visualize and hone their ability to place leads in the correct areas of the body, building greater confidence in the information retrieved from monitors.
"Lead placement is crucial to ensure quality monitoring," Kenric Thompson, director of clinical applications and education at Nihon Kohden America Inc., told HCB News. "As nurses, sometimes we forget the importance of proper lead placement and skin prep, or we may just be new to telemetry monitoring. We utilize several resources to properly train nurses, including e-modules and hands-on learning, and as we know, adult learners learn in different ways. We at Nihon Kohden decided to do something different. We wanted the clinicians to understand the importance of proper lead placement and the appropriate anatomical positions when monitoring patients."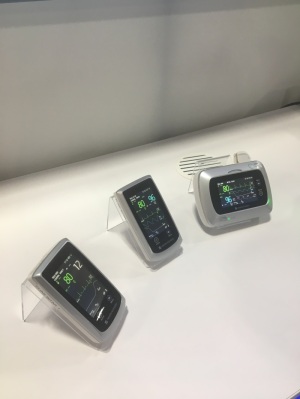 Improper lead placement can cause monitors to provide inaccurate or non-useable information. Created through collaboration with Tipping Point Media, the app utilizes computer-generated or extracted real-world sensory input such as sound, video, graphics, haptics or GPS data to augment direct or indirect views of physical, real-world environments.
By holding it in front of a one-dimensional lead placement poster of the human body, users can use the touch screen of iOS mobile devices to target and practice their lead placement, with the solution identifying when they are incorrect and providing feedback on how they can improve.
It also displays 3-D visualization of cardiac arrhythmias and the electrical activity and rate of heartbeats that occur during these cardiac events.
"We wanted to utilize the available AR/VR technology to take learning into a new dimension. That journey led us to our Platinum Award winning NK Dimensions app to use with our posters for Lead Placement and Typical Arrhythmia Waveforms. We've now made learning fun and interactive in a new three-dimensional way while reinforcing proper lead placement," Thompson said.