by
John R. Fischer
, Senior Reporter | February 18, 2019
From the January/February 2019 issue of HealthCare Business News magazine
There is more to picking the right radiological information system (RIS) than just choosing a piece of software that comes highly recommended or fits the budget.
Like so many tools in healthcare, the right RIS investment starts with looking in the mirror and figuring out what your unique needs are and how you plan to meet them.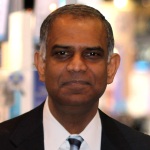 "Most people do not seem to understand that to make it work takes a little bit of skill and a little bit of flexibility. You can pick a great tool but if you can't implement it to keep your business going, health systems are going to cut their volumes or spend hundreds of dollars on a consultant," RadNet CIO Ranjan Jayanathan told HCB News. "You need a product that you can take from presentations to actual use and implementation without destroying your business."
And it's easier said than done. According to Jayanathan, providers in the U.S. are replacing RIS solutions at a high rate because they are investing in tools that aren't meeting their productivity demands.
Making the right purchase requires providers, both for radiology and now, the hospital enterprise, to understand the type of solution that RIS is today, and the functionalities it possesses. It commands experience and knowledge in how to integrate RIS within a workflow and enable it to operate in conjunction with, and in support of, other systems and tools.
RIS has evolved
Originally designed as stand-alone system, RIS has historically overseen the management of orders for imaging studies and related documentation as well as billing, administration and some workflow tasks. Although they remain largely a stand-alone in international markets, RIS solutions in the U.S. are increasingly becoming a set of functionalities embedded within other types of systems.
"You could say in many cases that departmental RIS solutions were essentially cannibalized by a broader EHR solution that covered all administration, billing and order management across the hospital, with RIS a module of the wider EHR solution," said Steve Holloway, principal analyst for Signify Research.