by
Mai Hiraoka
, Media Relations Manager | May 25, 2019
From the May 2019 issue of HealthCare Business News magazine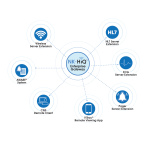 NK-HiQ™ Wireless Patient Monitoring System
Nihon Kohden - Booth 843
Wireless patient monitoring is changing forever with the NK-HiQ Wireless Patient Monitoring System, a breakthrough data acquisition and management platform that works anywhere WiFi is enabled in the hospital. NK-HiQ Wireless Patient Monitoring System allows patient data to flow safely, seamlessly and securely from admission to discharge, enabling the right care, at the right time, in the right setting.
NK-HiQ Wireless Patient Monitoring supports HiQ-View, which allows caregivers to use both the Life Scope® G9 bedside monitor and a telemetry device to monitor one patient. Using HiQ-View, patients can ambulate while and caregivers monitor them leverage bedside monitor parameters.
VIZZIA Technologies – Booth 412
VIZZIA RTLS & RFID solutions track the location and distribution of valuable, movable medical equipment (MME). VIZZIA uses proprietary process analytics to model, measure and optimize the equipment distribution process. A rapidly growing regional health system standardized on VIZZIA Asset Management to track MME (IV pumps, SCDs, PCA, feeding pumps, beds, IABP, ventilators and defibrillators) across 5 hospitals and saved $2M in costs. The Biomedical operations department recorded a 90% increase in work orders; more than doubled its clinical equipment count (to nearly 52,400); and booked a 40% increase in inventory value (to nearly $150M).
Back to HCB News