Zero trust Internet overcomes this shortcoming in today's cybersecurity products. It is a
default deny
approach that is fundamentally different from the way cybersecurity products work. Today's products categorize internet content and websites as being malicious or safe, and this approach is known to fail. Internet isolation enables a zero trust internet and takes the guesswork out of security by assuming all internet content and websites are malicious. The healthcare organization's network is completely safe from web and email threats from the Internet.
As a result, security and IT personnel often report that more than half of breaches take months or longer to detect and even longer to fix — which was the case with the MOHC — as it took a year for patients to learn their private medical data could be in the hands of cybercriminals. While security technologies such as machine learning, and AI are now being deployed and can help, these are nascent solutions that still take time to analyze new exploits. That means there can be a gap of weeks or months between the initial "patient zero" infection and effective mitigation. During that time, many others can fall victim to the attack.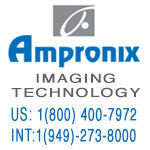 Special-Pricing Available on Medical Displays, Patient Monitors, Recorders, Printers, Media, Ultrasound Machines, and Cameras.This includes Top Brands such as SONY, BARCO, NDS, NEC, LG, EDAN, EIZO, ELO, FSN, PANASONIC, MITSUBISHI, OLYMPUS, & WIDE.

How to protect against malicious cyberattacks 100 percent with internet isolation technology
Imagine there is a "cure" for vicious cyberattacks. The cure is
zero trust internet
, enabled through internet isolation.
Internet isolation has proved to secure healthcare organizations 100 percent of the time against browser-related or email attacks. Internet isolation works by removing the browsing process from the desktop and moving it to the cloud. This effectively creates an "air gap" between the internet and the healthcare organization's network, completely eliminating potential sources of attack. In the internet isolation model, malware has no path to reach an endpoint and legitimate content needn't be blocked in the interest of security. With a native user experience, administrators can open up more of the internet to their users while simultaneously eliminating the risk of attacks.
Three reasons why internet isolation works 100 percent of the time for healthcare organizations of all sizes
1. Internet isolation allows employees to safely browse the internet and utilize external email without additional restrictions:
Users who engage with internet isolation technology are 100 percent isolated from all malware threats when clicking on an email link, including ransomware. Therefore, rather than introducing more restrictions to healthcare employees to protect the network, internet isolation enables healthcare staff to access their external webmail or browse the internet, while providing complete protection from phishing and other malicious attacks, including malicious web links and attachments. Internet isolation technology removes the difficulties in distinguishing between legitimate and malicious email, web links and content and provides a secure, trusted execution environment.