When it comes to enterprise imaging, having a 'vision' is the easy part
by
John W. Mitchell
, Senior Correspondent | July 03, 2019
Health IT
X-Ray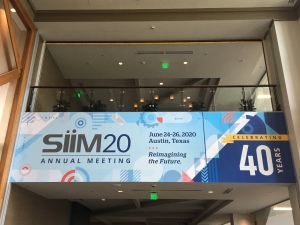 When Dr. Tarik Alkasab, service chief for informatics/IT and operations, went to the newly combined board of Massachusetts General Hospital and Partners Health a few years back with a plan to install enterprise imaging for the recently merged health system, the board's first response was a bit of a surprise to him.

"You don't already do this?" Alkasab said, to the amusement of the attending informatic experts at the 2019 SIIM conference. Combined, the two entities at the time were conducting nearly 1.5 million imaging studies a year. "After seeing the plan, they said we'll give you the money, but you have to do it now."

In addition to Partners Health, the largest health system in the state, informatics leaders from Duke University Medical Center and the University of Maryland Medical System also presented during the session, entitled Building the Right Team for Success in the Consolidate Enterprise.

Both Partner's organizations had deep histories and cultures, and a belief that "the current way of doing things is the right way of doing things," recalled Alkasab. The first thing he said he had to manage was the anxiety of separate informatics staffs at the two hospitals. They had three immediate concerns:

1: Will I have a job?
2: Where will I report, sit, and get paid?
3: Where will the additional people come from to build and maintain an enterprise system?

All three speakers on the panel alluded to a critical point: C-suite executives in a merger expect that there will be efficiencies that will reduce staffing and budgets. The opposite is true in enterprise imaging.

Maintaining a bunch of small servers to move images around costs less than operating one large enterprise system. The challenge is not so much in technology factors, such as legacy systems and vendor selection, but in the human element and overarching culture.

"Enterprise [imaging system] is a heavy lift," explained Michael Toland, PACS manager for the University of Maryland Medical System, which has 13 hospitals. He offered several tips for such an undertaking.

1: Take what was successful at the departmental level and scale it up to the enterprise level.
2: Take time to know your staff and what motivates them.
3: Understand the mission of the health system and help IT align with that strategic mission.
4: Create a culture of mentorship among the enterprise staff.
5: Use a team approach to accomplish large enterprise projects, as opposed to one person in a single site solving such challenges.

Dr. Christopher Roth, director of imaging informatics strategy at Duke University Medical Center, also emphasized people and culture. He said if the SIIM attendees remember nothing else, they should focus on three takeaways:

1: Build a proactive, problem-solving culture.
2: Pick the right people.
3: Make the responsibilities of those people clear.

"I want to know whether someone is going to fit into my culture — if they're go-getters," said Roth.

You Must Be Logged In To Post A Comment
Registration is Free and Easy.
Enjoy the benefits of The World's Leading New & Used Medical Equipment Marketplace.
Register Now!