by
John R. Fischer
, Senior Reporter | August 12, 2019
A team at Kaiser Permanente has standardized the definition of a complete imaging history, and developed systems to provide prompts in a single keystroke to help in the order entry process.
The aim of the project was to improve the quality of the way in which imaging histories are compiled, with the group discussing and defining various components that make up a complete imaging history to form an electronic medical record macro of the revised definition.
"A multidisciplinary team of radiologists, imaging technologists, primary care physicians, physician assistants, nurses, medical assistants, improvement advisors and nursing managers reviewed cases and clinical scenarios, as well as the literature on imaging histories. We created a tool with draft questions to support ordering providers in providing complete imaging histories," corresponding author Richard E. Sharpe Jr., a radiologist and department value advisor at the Colorado Permanente Medical Group in Denver, told HCB News. "We underwent several improvement cycles until we arrived at history prompt questions that worked for most clinical scenarios and were found to be valuable to ordering providers and radiologists."

KA Imaging's Reveal 35C detector, currently available as an upgrade solution in the US and selected geographies, can now be sold in the European Union. The detector recently obtained the CE Mark. Contact us at sales@kaimaging.com to book a free demo.

The final apparatus for defining complete imaging history was divided into four prompts:
• what happened;
• when it happened;
• where the patient was experiencing pain;
• and the ordering provider's concern.
All four were integrated and evaluated between March 2017 and December 2018 within the electronic physician order entry process. During that time, providers in the study clinic placed 10,236 total orders. Of those audited in the baseline period, 16 percent contained all four components.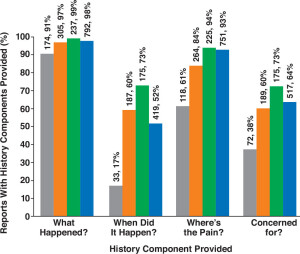 This number increased to 52 percent in the subsequent time periods, as did the mean number of characters entered into imaging histories, from 45.4 per order to 75.4 during the same period of time.
"Artificial intelligence could potentially mine electronic medical record information associated with the current exam being reviewed, as well as patients' often extensive historical medical records," said Sharpe. "In addition, perhaps one day AI can assist in previewing the images acquired as well. Care could be improved if AI evaluates patients data, identifies and directs attention to information that could be relevant at point of care."
The findings were published in the
American Journal of Roentgenology
.