Politics:
Some improvements were observed to the extreme partisan discussions of last year. But still shocking to realize what one person can destroy with respect to grown relations, morals, foreign understanding and global trade. My personal report obviously contains personal notes and that is one ...
Booth Setup, Design and General Impressions: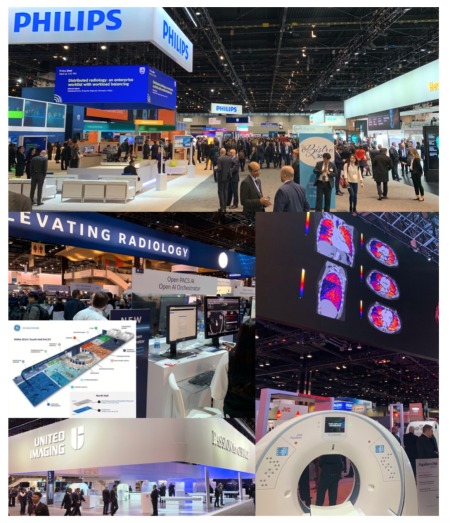 CANON
and
GE
in Hall A, separated by the very bright
UNITED IMAGING (UI)
.
Siemens Healthineers
and
PHILIPS
directly adjacent to each other in Hall B and at least for me with identical size floorspace.
BOOTH CONTEST:
Which brings us to the MF booth contest (
only the 4 main OEM's compete
— but maybe I have to add UI the next time, even though they would not have made it in the top three this year due to their relatively boring and bright setup).
For all novel readers I am not judging content at all, only and merely how they look and "feel".
Some comments: the
CANON
display was fantastic, other than that a little too cosy for me; a negative for
PHILIPS
was the reception hidden inside the booth and a little confusing setup;
HEALTHINEERS
was too packed, too full, and the obvious separation with the two floors felt "excluding" (I know that they have that for several years already, but that does not make it better);
GE
warm (wooden panels, cozy sitting areas) and well organized with a single floor setup.
So for the first time ever I award the annual FIRST PRICE IN THE RSNA MF BOOTH CONTEST to GENERAL ELECTRIC, followed by CANON and a joined third for SIEMENS HEALTHINEERS and PHILIPS.
Congratulations!
What was NEW at the major OEM?
You first need to understand my search and asking process. I typically make an appointment with people from the OEM that I know well and they then organize a personalized tour. Some glitches with PHILIPS this year, but in general worked well.
I then ask the presenting staff for things that they themselves think are the key innovations. And with key innovations I mean the combination of REDUCING COST and DIAGNOSTIC/THERAPY ERRORS, and an OUTCOME and PATIENT EXPERIENCE IMPROVEMENT ... and obviously something that nobody else has.
They all tried hard and told my team (this year I brought two of my PhD students and my Chair Manager with me) the highlights that they believed fit this criteria. If you consider improvement of low percentage numbers and cost reductions in the same order as outstanding, than they all had something to show and present.