An editorial by Michael Friebe
2016 report title:
BEYOND IMAGING: Radiology is Changing! Big Data / Machine and Deep Learning / Artificial Intelligence is everywhere!
2017:—Machine Learning
in the center of Radiology Innovation
And 2018 :—AI / MACHINE LEARNING IS MAINSTREAM NOW — RSNA(I) 2018 IN AN EXPONENTIAL WORLD.
There will never be an RSNA without AI and there will only very few products in the future that will not take advantage of the AI capabilities.
The official 2019 Logo is
"SEE POSSBILITIES TOGETHER"
- I really like it and therefore use it as well ... this is a great
"Massive Transformative Purpose"
and highlights the need of cooperation and interdisciplinary work, something that is also extremely important in my personal work and environment, since Innovation develops best at the intersection of many disciplines with the patient in mind and in anticipation of future healthcare delivery changes.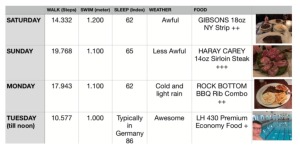 I know that many of you are waiting for the really important information concerning my activity level, the weather and the food that I consumed. Well, here we go ... pretty boring actually ... heavy on the meat ... and with the exception of the weather not much different from last years.
Sunday evening is - at least for the last 10 years - the infamous GMMM at the Harray Carey restaurant. With about 10 regulars and 5-10 newly invited. Want to know about this fun and secret event 😉 ? Contact me next year around September when I make the reservation again - no guarantees though!
Going quickly back to AI. This year there was even a complete hall (underneath hall B ... did not even know that this existed) dedicated to AI Innovation and companies. Look at the "value propositions" for AI programs and applications that I collected to see the sales arguments.
Weather:
already listed in the table above ...
Attendance:
not sure ... I believe less, but then there was the additional AI hall and separate 3D printing and Start-Up corner sections with an increased poster area. Chaos and traffic congestion in front of McCormick place trying to board a Taxi, Uber or Lyft was extreme during the busy hours ... so maybe I am wrong with the lower attendance.