by
Lauren Dubinsky
, Senior Reporter | February 10, 2020
From the January/February 2020 issue of HealthCare Business News magazine
Last year, Nihon Kohden released NK-HiQ Enterprise Gateway as an interoperability platform for their entire ecosystem. It features different applications based on what the facility wants to connect to — with the electronic health record being a common choice.
Philips is working with industry partners to make it easier to share information between systems. The company envisions a future in which the complete patient record, including patient physiological data, can be used to guide decision making at the bedside, a central station or a mobile device.
"Developing technologies will be complementary to the EHR — as opposed to an out-and-out replacement — since the EHR was designed in response to Meaningful Use," said Ziese. "The EHR will play a supporting role in the more exciting technologies related to predictive algorithms etc., and the 'platformization' of healthcare."
In terms of which facilities are making the most inroads with EHR integration of patient monitors, ECRI Institute has found it's more prevalent in higher-acuity care settings such as the intensive care unit. Although adoption is growing in the lower acuity care areas where spot check monitors are traditionally used, the demand is greater where patients are continuously monitored.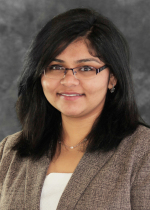 "EHR integration is complex and expensive, which has led to slower adoption on the lower acuity care settings," said Shah. "For hospitals, it makes more sense right now to integrate it with the higher acuity patient monitors."
The next generation of patient monitors
AI requires a repository of good (patient de-identified) data that provides an actionable outcome. While progress has been made in recent years, Shah said more work needs to be done before patient monitors are truly tapping into these sophisticated algorithms on the clinical level.
"When patient monitoring vendors tell us they have new features that use AI, we want to dissect what they really mean by AI because it has many different interpretations," she said. "From our experience, vendors use the term AI and machine learning but when we ask in-depth questions, we don't get the responses that would convince us completely."
Although smart algorithms for patient monitoring may not be making the same kind of progress that's being seen with imaging, for example, there is plenty of reason to believe that big data will play a bigger and more important role as new technology rolls out.