From the March 2020 issue of HealthCare Business News magazine
By Michael Morgan
Assured Imaging has fast become one of the leaders in Women's Imaging in the United States and abroad. Focusing on all things related to Mammography, Assured has worked tirelessly to master each area of women's imaging. Their capabilities include:
End user:
Assured Imaging, a Rezolut company has more than 30 imaging centers nationwide providing 3D mammography, breast ultrasound and Dexa.
Mobile Mammography: With the recent acquisition of Alinea Medical Imaging and their continued annual growth, Assured now represents the largest mobile company in the United States.
Reseller:
Assured Imaging's Capital division now sells, leases and rents mammography equipment nationwide to small GYN, and medical practices. They also design complete turn key solutions which can include providing radiologist reads, PACS, and techs.
Mobile Mammography Coaches:
Assured now builds mobile mammography coaches with your choice of 2D, 3D, Dexa and ultrasound and is the largest end user of all technology they use. Who better to buy, rent or lease from than a company that operates more than 40 mobile mammography units nationwide?
Mammography Service:
Because Assured covers such a large area, they have developed 3rd party service & repair capabilities and can service any 3D mammography system, be it full-service contracts or one-time labor and materials agreements billed by the hour.
Parts:
Because of their large inventory, Assured Imaging is able to test and provide parts for your 2D or 3D mammogram unit including tech assistance and installation.
Sales:
Assured Imaging offers comprehensive quotes for mobile mammography options and in-house solutions for new and used equipment, including 3D upgrades.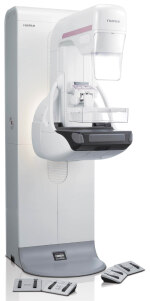 Assured's journey
Eliminating obstacles and improving access to screening is at the core of Assured Imaging's mission. It has been this way since 2000 when the company began with its very first R2 CAD system.
Since those early days and through innovation, Assured has become a company of "firsts". In 2006, they introduced the first 2D full-field digital system via a mobile coach application and shortly thereafter, the first 3D digital mobile system in the Southwest.
Health plan groups saw the company as a niche solutions for resolving HEDIS and Star Measure gaps in care, brought about by its unwavering commitment to providing quality equipment, dependable staffing and maximizing uptime.
Passionate about the role it plays in detecting disease early and saving lives, Assured is currently testing what will be the first mobile AI system designed to provide quality assurance to radiology reads, making it easier to detect lesions and abnormalities.
Improving access and uptime via in-house technology
For smaller healthcare providers, introducing mammography screening can be a daunting task. As such, Assured has taken a special interest in delivering mammography services to these locations by providing equipment, personnel, maintenance and certifications, thus positioning these facilities to improve access to care for patients in their communities.
Service & repair
Assured Imaging now offers its own in-house service team, ensuring optimal system performance and uptime.
Backed by equipment manufacturers, Assured clients realize uptime rates around 100 percent, earning the company a reputation as a trusted seller and service provider of mammography equipment.
Securing a better future for patients via partnerships
If you're planning to embark on a women's health project, Assured Imaging has a solution to support your goals. The company works alongside leading imaging OEMs such as Fuji, Hologic and GE (to name a few), offering the best price points for new and used 2D & 3D mammography, bone Dexa and ultrasound units.
For more information, contact Joseph Shafe, VP of Sales, at: joseph.shafe@assuredww.com or (800) 232-4414.
This article was sponsored by Assured Imaging.