GE deploys software solution for monitoring COVID-19 patients
by
John R. Fischer
, Senior Reporter | April 16, 2020
Health IT
Patient Monitors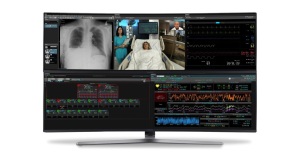 GE Healthcare unveiled its Mural Virtual Care Solution this week, deploying it onto the Microsoft Azure cloud platform to help providers better monitor and treat COVID-19 patients.

The vendor-agnostic software alerts hospitals to when a patient's condition is at risk of deterioration, and can identify patients who require intervention, including ventilation and lung injury management for those on extended mechanical ventilation support. It acts as another pair of eyes to provide additional oversight in hospitals, many of which are experiencing shortages of intensivists and bedside caregivers due to the higher than normal number of patients and the need to furlough workers to curb expenses or isolate those who test positive for COVID-19.

"As both large and small hospitals treat the growing number of COVID-19 patients, the strain on healthcare providers and systems will be unprecedented," said GE Healthcare president and CEO Kieran Murphy in a statement. "Not only is GE Healthcare providing critically important medical devices to address this global challenge, but we are also rapidly scaling technologies to aid clinicians in delivering safe, effective and efficient care."

The Mural Virtual Care Solution is the latest release to come out of the ongoing collaboration between GE and Microsoft.

The solution operates within a central location to provide clinical surveillance of ICU patients, including those on mechanical ventilation. It does this by collecting near real-time data from ventilators, patient monitoring systems, EMRs, labs and other systems across the hospital network.

An installation across a 100-bed multi-site ICU network is monitored by three senior nurses and two intensivists 24/7, with one clinician able to monitor several patients at once. This, in effect, reduces the clinician's exposure to the virus, while keeping tabs on patients and their conditions.

Mural can also be customized to provide data and calculations to hospitals based on their care protocols, ensuring that regulations for treating COVID-19 patients are followed. The solution can be used in any hospital or health system, regardless of size, and is currently up and running at Oregon Health & Science University.

"Facing the daunting outlook of a COVID-19 surge, it is imperative that I and my fellow healthcare workers use virtual ICU technology to safely monitor and care for our sickest patients, while preserving PPE," said Dr. Matthias Merkel, OHSU's chief medical capacity officer, vice chair of critical care medicine, and professor of anesthesiology and perioperative medicine, in a statement. "Remaining closely connected and supported through technology enables us to progress our patients' care across a geographic distance that we would otherwise be unable to manage."

GE is waiving subscription charges for Mural software through January 31, 2021.

The software is available for use.
You Must Be Logged In To Post A Comment
Registration is Free and Easy.
Enjoy the benefits of The World's Leading New & Used Medical Equipment Marketplace.
Register Now!