by
Lisa Chamoff
, Contributing Reporter | July 13, 2020
Despite the disruptions of the past few months, the president of the Society of Nuclear Medicine and Molecular Imaging (SNMMI) encouraged members to continue to work with government agencies, collaborate with other specialties, explore educational opportunities and mentor medical students.
During a video address during the society's virtual meeting, SNMMI's 2019-2020 president, Dr. Vasken Dilsizian, noted that it had been a year of successes and challenges.
"During this difficult and stressful period in our professional and personal lives, we communicated with our members to keep them safe while providing high quality and compassionate care to our patients," Dilsizian said.

Quality remanufactured Certified Centrifuges at Great prices! Fully warranted and backed by a company you can trust! Call or click for a free quote today! www.Centrifugestore.com 800-457-7576

Dilsizian urged the organization to continue to be proactive when working with government agencies to encourage approval of new radiotracers and fair and equitable reimbursement for procedures, as well as expansion of access to diagnostic radiopharmaceuticals and recognition of the skills and training required for the specialty.
Collaboration with other specialties is also key as the field of nuclear medicine is interdisciplinary, with referring physicians "vital partners" in ensuring good patient outcomes, Dilsizian said.
Acknowledging the high interest in virtual education, Dilsizian noted that SNMMI has added a large number of new webinars, creating on-demand virtual education.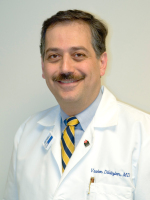 However, Dilsizian said, that doesn't mean that traditional education is not important, and he encouraged his colleagues to reach out early to medical students, noting that the society had changed its bylaws to include a membership category for medical students, offering them a special opportunity to attend meetings and seminars.
The SNMMI Value Initiative program now offers funds for a 10-week summer research program to encourage students between their first and second years to consider careers that include biomedical or clinical research or academic medicine.
"Such research exposure and collaboration between students and mentors often extend throughout the medical school years, and directly influence the choice of specialty," Dilsizian said.
Despite the halt of travel, Dilsizian also stressed the society's commitment to multinational diversity, noting that nearly 15% of SNMMI members are from outside the U.S., with more than 84 countries represented, and that about 66% of the annual meeting abstract submissions and 75% of manuscript submissions to the Journal of Nuclear Medicine are from outside the U.S. He hoped this commitment to diversity would continue.
"One of the most rewarding aspects of our profession is the kinship that we develop along the way of our academic activities, getting to know each other outside the work environment, attending national and international conferences," Dilsizian said. "Our success depends on our dedication to maintaining both the spirit of and commitment to a global community in our field."
Last week, HealthCare Business News publisher, Phil Jacobus,
interviewed Dr. Dilsizian
in his video series, Five Minutes in Healthcare.