by
Lisa Chamoff
, Contributing Reporter | July 15, 2020
Visitors to the exhibit hall at the Society of Nuclear Medicine and Molecular Imaging (SNMMI) virtual meeting weren't logging record-setting steps at the Ernest N. Morial Convention Center in New Orleans, but they were able to tour virtual booths that some companies designed to resemble the mini mansions that trade shows are known for.
More than 85 companies set up booths in the exhibit hall, designed by virtual events company vFairs. It had the feel of a video game, right down to being staffed by avatars in business attire.
Most companies showcased links, videos and documents that attendees could add to virtual registration bags. They also utilized a chat room function, which allowed attendees to have group and private chats with prospective customers.

Quality remanufactured Certified Centrifuges at Great prices! Fully warranted and backed by a company you can trust! Call or click for a free quote today! www.Centrifugestore.com 800-457-7576

A few companies, including Canon Medical Systems and Spectrum Dynamics, went a step further and contracted with outside vendors to create 3D versions of their regular trade show booths.
Canon Medical Systems worked with trade show display company Pinnacle to create a virtual space to showcase its Cartesion Prime PET/CT, introduced at last year's RSNA.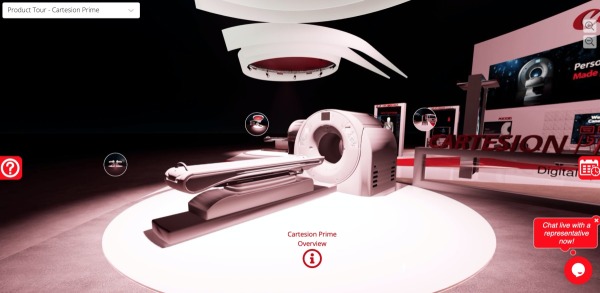 "This was a very important meeting for us," said Angela Dunaway, senior manager for molecular imaging solutions marketing for Canon Medical Systems USA. "The plan for SNMMI was to really help customers understand what we're doing. The booth needed to reflect that."
The booth, which is accessible via the tradeshow floor as well as a separate website, allows visitors to use their mouse to virtually walk through the space and visit specific stations by clicking on an icon. The booth includes a virtual display set up to stream short two- to three-minute videos about the Cartesion Prime, a virtual workstation showcasing exam demonstrations, including one for breast cancer, and a spot to view posters with research related to the product.
The company also set up a welcome station that displays videos, including a message from Canon Medical Systems USA President and Chief Executive Officer Yuji Hamada and information on the company's cybersecurity initiatives and COVID-19 response. These are topics the company normally doesn't include in a trade show booth.
"We thought this was a great opportunity to provide this," Dunaway said. "We see ourselves as being able to create a repository of information."