From the May 2021 issue of HealthCare Business News magazine
The following are just some of the products and services that will be on display during the virtual 2021 AAMI Exchange.

ALTA750®
Richardson Healthcare
The ALTA750® is a form, fit and function replacement for the Toshiba/Canon Medical Systems CXB-750D/4A CT tube. It is certified on OEM platforms, including the Aquilion 4- through 64-slice and the PRIME (Gen. 1). The ALTA750 is CE approved and is available with a 12-month warranty (certain restrictions apply). Stocked in 6 locations around the world and ready to ship today!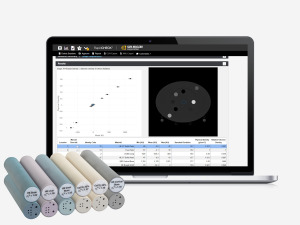 RapidCHECK™ Software with Advanced Electron Density Phantom
Sun Nuclear
CT-to-electron density calibration is a key step to achieving highquality delivery of radiation therapy. Sun Nuclear's Advanced Electron Density Phantom accurately mimics tissue per ICRU-44 standards. Plus, it contains patented rod markers that automatically identify materials during a CT scan when used with RapidCHECK™ software – minimizing risks from rod misplacement, phantom rotation, or incorrect selection of ROIs. RapidCHECK software then automatically generates physical density and electron density tables for export. Together, RapidCHECK and the Advanced Electron Density Phantom automate tedious, repetitive, and error-prone tasks for more efficient, precise treatment planning system calibration. Learn more at sunnuclear.com/products/rapidcheck-software
Cybersecurity Service Gateway*
Canon Medical
Canon Cybersecurity Service Gateway* bundles industry leading cybersecurity solutions for unparalleled defense against malicious attacks. We secure patient information using a multilayered, proactive approach protecting against unauthorized access, meeting highest levels of security and customer privacy expectations while guarding against downtime and excessive security and maintenance costs. Gateway Gold includes a secure firewall, VPN and PHI/PII protection, and remote system diagnosis. Our Gateway Platinum solution** is OEM agnostic* and provides a NextGen firewall, advanced intrusion prevention, a secure VPN, and customizable reports and alerts to keep customer IT teams and Canon Risk Management notified on malicious activity and network traffic. *select systems/service agreement ** additional cost
Medical Marketplace
Canon Medical
Canon Medical's new e-commerce parts logistics solution, Medical Marketplace, provides an online shopping experience where customers can explore the Canon Medical parts inventory at their convenience 24/7. Parts ordered online are eligible for reduced rates of 15 percent off the listed price. This online tool offers a solution that provides improved cost savings, increased efficiencies, and enhanced productivity to all customers.
For more information, visit marketplace.us.medical.canon.