Tracking down equipment for patient care and preventive maintenance is a source of frustration for both clinical and biomedical staff. Yet many healthcare leaders resist asset tracking solutions, which they believe to be cost prohibitive or too complex to implement. Instead, most hospitals compensate for missing equipment by over-purchasing additional assets.
Midmark's real-time locating system (RTLS) offers several reasons to consider using an RTLS. Even if you already use an RTLS, you might want to take a look at the differences between on-premises options and our latest cloud-based solution.
Why RTLS?
Nurses and biomedical staff spend inordinate amounts of shift time searching for assets-everything from IV pumps to wheelchairs, telemetry packs and more. It's become such a routine part of daily life for these professionals that it's considered "normal." But this kind of normal has a price tag, financially and emotionally.
To make sure that equipment is always at hand, nurses are known to "stow away" equipment in closets and unused rooms. Clinical leaders have estimated that up to 30% of facility equipment is hidden at any time. This leads to perceived scarcity, which in turn causes hospitals to over-purchase by at least 10%,1 attempting to ensure availability across the facility. For a 300-bed hospital, the result is $1.5M in unnecessary spending over the life span of an equipment fleet, or $125,000 annually.2 Additionally, there are other costs associated with device purchasing, including the labor to maintain extra equipment, software agreements, consumables, installation costs and user training. These added costs can significantly affect both capital and operating budgets.
This phenomenon also affects biomedical staff. Time spent searching, often cited as 10% of a biomedical staff's shift, adds up to 208 hours per year per technician; that's nearly $5,000 3 per year of non-value-added time. It also has an emotional impact, as they're often searching for equipment that will never be found, becoming a source of frustration and dissatisfaction.
Over-purchasing, lost assets, staff inefficiency and dissatisfaction have direct impact on costs; however, the biggest impact is on patients. When nurses spend 10% or more of their time away from the bedside, and needed equipment isn't available, the timeliness of patient care suffers, as do patient satisfaction scores.
There Is a Cure
RTLS is an established technology that can substantially return lost time to your clinical and biomedical staff. Recent advances to Midmark's RTLS have made it easier to adopt, install and scale.
What can Midmark RTLS do in your environment?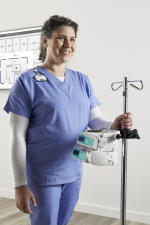 Midmark RTLS can ensure that care teams can easily find the right equipment for patients, without delaying or diverting care. This is accomplished with a system of plug-in sensors easily installed throughout your facility, asset tags affixed to equipment and software that graphically reveals the location of these assets.
Midmark RTLS software can integrate with the leading CMMS applications used by your biomed teams. This reduces the burden of searching for assets requiring preventive maintenance, even alerting teams in advance of such needed work, making those teams more efficient.
Equipment that sits unutilized-and hidden-increases the likelihood of overspending on assets. Midmark RTLS helps put more of what you have in use, increasing the utilization of your asset fleet and helping staff reallocate assets to where they are needed. This level of active visibility reduces expenditures on both capital and operational budgets.
Midmark RTLS can help improve patient care and satisfaction by reducing equipment delays and increasing nursing time at the bedside.
3 Ways Midmark RTLS Improves Asset Tracking
#1: Easier installation-One of the latest features of Midmark RTLS is the use of a cloud platform.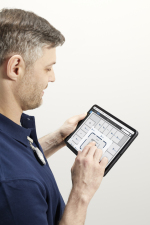 Our cloud-based RTLS scales more easily across multiple facilities, tracks assets across those facilities and keeps clinical and biomedical teams on the latest versions with automatic software updates. This is a significant time saver since IT is free from the need to install software on multiple servers and computers. The locating hardware is easier and quicker to install using plug-in Bluetooth Low Energy (BLE) sensors that can be deployed in a matter of days. Disruption to patient care is minimal, as each sensor takes approximately five minutes to deploy.
#2: Options and accuracy-Midmark offers multiple BLE asset tags to track a wide range of equipment to the near room-level (within three meters).
Micro Tags are small enough to track easily lost assets like telemetry packs and glucometers, low-footprint, long battery life Asset Tags are the standard for most assets, while BLE/IR Asset Tags use both BLE and Midmark's highly-accurate infrared (IR) technology. This allows for locating precision where Midmark's Wired Sensory Network is installed while supplementing with BLE. And speaking of precision, no matter what technology is used, the software visually displays location confidence with "accuracy bubbles," providing trust and transparency in the location data.
Micro Tags
are small enough to track easily lost assets like telemetry packs and glucometers, low-footprint, long battery life
Asset Tags
are the standard for most assets, while
BLE/IR Asset Tags
#3: Easier scalability-Scaling the system requires minimal effort and complexity, even across multiple hospitals.
Choose and attach the appropriate tag for the asset, and ensure that the area where the asset is deployed is covered by a plug-in sensor connected to the cloud-based system. Once installed, the system allows for access to numerous future use cases, including Staff Locating, Staff Duress, Contact Tracing and much more.
More than Time Saved
Every health system is seeking ways to cut costs, enhance efficiency and improve the healthcare experience for patients. The Midmark RTLS Cloud Asset Tracking Solution not only delivers all of the above, but also supports front-line caregivers and technicians by reducing their frustrations and enabling more time with patients. Facilities enjoy increased asset utilization, lowered capital and operational expenditures on equipment, and the opportunity to raise patient satisfaction scores.
1 Ladd Insight Report: Voice of the Clinical Leader Regarding RTLS. February 2021
2 Acceptable industry averages of 10 devices per bed; average cost of $5000 per device; average 12-year life span
3 40 hrs per week x 52 weeks = 2080 10% = 208. 208 hours x $23.78/hr. https://www.payscale.com/research/US/Job=Biomedical_Equipment_Technician_(BMET)/Hourly_Rate
Back to HCB News