by
John R. Fischer
, Senior Reporter | October 12, 2021
Boston Scientific Corporation has put up $1.75 billion to acquire Baylis Medical Company.
The addition of Baylis Medical adds its radiofrequency NRG and VersaCross Transseptal platforms for left heart access to Boston Scientific's electrophysiology and structural heart product portfolios. Also included are a family of guidewires, sheaths and dilators.
Traditional use of mechanical needles to pass the septum and access the left side of the heart comes with safety concerns, and individual patient anatomies can make placing the needle correctly challenging. Baylis Medical Company solutions are designed to make crossing the atrial septum safer and more effective for providing treatment during procedures such as atrial fibrillation ablation, left atrial appendage closure and mitral valve interventions.
As a result, Baylis Medical Company has been able to achieve double-digit year-over-year sales growth in each of the last five years, and is expected to rack up net sales of close to $200 million in 2022, according to Boston Scientific. "All of these procedures require physicians to puncture the wall that separates the right atrium from the left atrium – also known as the septum – a procedure that the Baylis Medical technologies can streamline and make safer. As a result, the transseptal access market is expected to grow double digits in the coming years."
Using RF energy, the NRG Transseptal Needle is designed to save time as it performs a transseptal puncture of the left heart, while reducing the risk for serious complications, compared to mechanical solutions. It can cross difficult anatomies and the septum at precise locations, localize the RF needle on mapping systems and reduce fluoroscopy time for transseptal puncture. In addition to the needle, the NRG Transseptal platform includes the ExpanSure Large Access Transseptal Dilator, NRG Large Access Solution for optimizing tissue dilation, TorFlex Transseptal Guiding Sheath, SureFlex Steerable Guiding Sheath, ProTrack Pigtail Wire, and the NRG RF Transseptal Kit.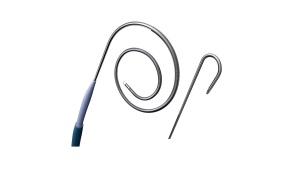 The VersaCross RF Transseptal Solution offers the same benefits without the need for wire and sheath exchanges. This allows users to rely on only one solution from start to finish, helps mitigate risks, and streamlines operations and therapy delivery. It also comes with precise RF puncture technology. Its other component, the VersaCross Large Access Solution uses the exchangeless three-in-one RF wire and seamless dilator to allow for smooth delivery of large therapy sheaths.