Powers noted that, "as we acknowledge that some of the hospital cybersecurity issues begin as vendor management issues, we may want to begin to audit the cyber security practices of vendors. Simple things (which could be big things) such as controlling employee access to hospital data should probably be examined. If a vendor's employee is no longer working for the vendor, has his/her access to hospital data also been curtailed? Bottom line: how is the vendor protecting data and are they adopting best practices?"
O'Donnell focused on internal quality practices and Crothall's additional offering EquipReady, an equipment distribution program.
"We want to get firmly established, who is doing what," she said. "EquipReady takes away the question, 'Who is expected to clean and disinfect the equipment? Is it clinical engineering? Is it the servicer? Is it the nursing team?' We think communication is a big part of what we do … both internally and externally. We are pleased to have successful partnerships dedicated to quality and hope to build on them in 2022."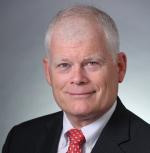 About the author: Robert J. Kerwin is general counsel for IAMERS, the International Association of Medical Equipment Remarketers and Servicers.
Back to HCB News