GE integrates additional Medtronic tech into patient monitoring platform
by
John R. Fischer
, Senior Reporter | June 08, 2022
Cardiology
Emergency Medicine
Operating Room
Patient Monitors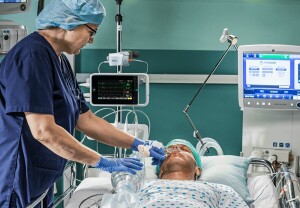 GE Healthcare has integrated two of Medtronic's continuous monitoring solutions onto its CARESCAPE patient monitoring platform, completing the full suite of Medtronic patient monitoring technologies available on the system.

The new additions include Microstream capnography (CO2), which indicates when a patient is declining, and INVOS regional oximetry (rSO2) technology for monitoring hemodynamic changes. CO2 can be used on neonate and adult patients in the ED, NICU/PICU, OR, ICU, Med-surg unit, recovery suite and for transport in between. rSO2 alerts clinicians to deteriorating conditions from cerebral desaturation, a complication of cardiac surgery. It is often used in the ICU and OR to measure regional oxygenation in real time.

The integrations, which are FDA cleared and CE marked, are expected to enhance decision-making for patient care and clinical workflow. "As new monitoring capabilities and parameters are released over the next few years they can be used on the same standard architecture to truly personalize the experience for each patient and empower clinicians with the data they need for better care," Neal Sandy, general manager for monitoring solutions at GE Healthcare, told HCB News.

Using molecular correlation spectroscopy, CO2 accurately measures parameters that are not affected by the presence of other gasses. It also utilizes Smart Capnography algorithms, which reduce clinically insignificant nuisance alarms by 53% to improve patient safety and reduce provider responses to nonemergency issues.

rSO2 helps clinicians stabilize patients when cerebral oxygenation is in danger and has been shown to improve postoperative outcomes. For instance, patients receiving on-pump coronary artery bypass grafting spent 14 hours less on average in the ICU with the solution.

CARESCAPE comes with GE Healthcare's FlexAcuity solution to allow clinicians to choose care options based on patient acuity needs and to help detect deterioration early. Both companies will release new monitoring capabilities and parameters on this flexible architecture to further personalize care. This includes new and existing devices.

"As providers, we prioritize how care is given based on individual patient acuity, so when we're working with a monitoring platform, it is helpful to be able to choose from different parameters to aid in capturing signs of deterioration as quickly as possible," said Dr. Eva Masso Lago, anesthesiologist with Germans Trias i Pujol Hospital in Spain, in a statement.

The Microstream capnography and INVOS monitoring systems are adjunct solutions and should not be used as the sole basis for diagnosis or therapy.
You Must Be Logged In To Post A Comment
Registration is Free and Easy.
Enjoy the benefits of The World's Leading New & Used Medical Equipment Marketplace.
Register Now!