GE targets PACS productivity with predictive analytics integration
by
John R. Fischer
, Senior Reporter | June 16, 2022
Health IT
PACS / Enterprise Imaging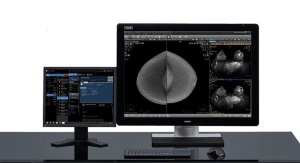 To boost radiology productivity and workflows, GE Healthcare has integrated its PACS systems with Helix Radiology Performance Suite, an intelligent workload management solution designed by Quantum Imaging & Therapeutic Associates.

The company announced the new addition at the Society for Imaging Informatics in Medicine (SIIM) Annual Meeting.

Contractual service-level agreements, location-specific service requirements and other factors make it challenging to distribute work efficiently. Using predictive analytics, the software appropriately assigns exams to the right specialists based on the skill set, exam complexity and priority status for greater reading efficiency.

In addition, it is meant to reduce radiologist burnout and cherry-picking, said Nalinikanth Gollagunta, CEO of enterprise digital solutions at GE Healthcare, in a statement. "Radiologists are desperate for the latest tools to keep up with an ever-increasing caseload. The new intelligent management workload uses predictive analytics to efficiently allocate case workload improving radiologists' productivity, while providing more work and life balance."

The solution is made up of Helix Balance, a workload orchestration engine that accounts for patient history, physician performance, clinical priority and real-time exam volume; Helix Pace, which adjusts productivity targets based on complexity and performance trends; and Helix Path, which integrates seamlessly into diagnostic workflows to manage clinically relevant imaging data appropriately.

With it, production for users has risen to 22%, says Elizabeth Bergey, president and CEO of Q-IT. She credits this to it basing decisions on performance rather than compensation.

Q-IT has also seen 16.7% improvement in super STAT turnaround times (TAT); 20.5% improvement in STAT/ED TAT; and a 4.8% increase for inpatient TAT on exam distribution. The percent of SLA exceptions has fallen by more than half for ED, inpatient and outpatient exams, bolstering efficiency and lowering cost.

"With this intelligent workload management solution, enterprise equilibrium is achieved by intelligently prioritizing and dynamic exam assignment based on the real-time assessment of the active radiologist workforce, their skill sets and using novel exam complexity modifiers to help enable the right radiologist to be reading the right exam at the right time," said Bergey.
You Must Be Logged In To Post A Comment
Registration is Free and Easy.
Enjoy the benefits of The World's Leading New & Used Medical Equipment Marketplace.
Register Now!