By Bhvita Jani
2022 was somewhat challenging for vendors of fixed digital radiography (DR) systems, with market expansion impeded by inflationary pressure, stretched healthcare budgets and increased average selling prices.
However, this has set the stage for a strong rebound in 2023, with the fixed DR market predicted to grow by 8.8%, reaching $1.3 billion. According to Signify Research's 2023 General Radiography & Fluoroscopy report, the market outlook from 2022 to 2027 is more favourable for fixed DR than mobile DR systems, pacing at a revenue CAGR of 7.2%. However, the pandemic-related surge in demand for mobile DR systems in 2020 and 2021 will continue to impact the market in the coming years, with orders and replacement cycles brought forward, limiting the market outlook to a CAGR of 3.5%. The fluoroscopy market is expected to maintain a steady growth rate of 2.1% CAGR during the same forecast period. Still, it faces challenges such as increased competition from alternative modalities, decreased procedure volumes, and market consolidation limiting its expansion. Below are the key trends we identified in the 2023 edition of our General Radiography and Fluoroscopy report.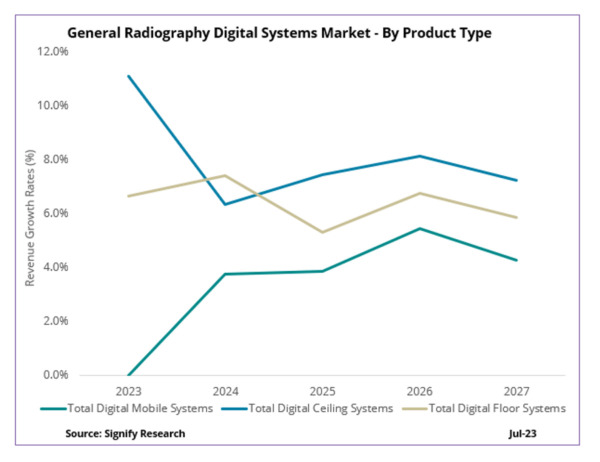 Doing more with less
Healthcare providers continue to navigate increased patient footfall and procedural demand amidst workforce challenges with a scarcity of radiologists and technicians in many countries. Restricted healthcare budgets intensify the situation due to inflationary pressures and economic uncertainty. As a result, the need for less reliance on technician experience and the move to "deskill radiography" has facilitated an uptick in demand for automated workflow solutions, enabling smart protocolling and patient positioning, one-click examinations, and automated image rotation. AI-enabled workflows to reduce scan times and facilitate higher patient scan volumes are shifting from a "nice to have" to a "must have" feature with a growing influence in purchasing decisions.
Despite a lack of reimbursement, the promise of improving operational efficiencies is enabling the growing adoption of embedded (on-scanner) AI solutions. As a result, vendors in the high-end market are actively expanding their AI capabilities, both with native (in-house) algorithm development and with increased collaborations with third-party AI developers. For instance, Agfa Radiology Solutions collaborated with Lunit to offer the "Insight CXR" tool on the Musica workstation to identify chest abnormalities, alert radiologists of critical findings, and help prioritise patient caseloads. This partnership has enabled Agfa to compete more directly with GE HealthCare's Critical Care Suite and Fujifilm's FDR AQRO in the high-end mobile DR market.