CardiArc's Terrance Garner Is Marketing a Novel SPECT Camera
by
Lynn Shapiro
, Writer | June 25, 2008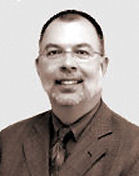 On the verge of launching its novel SPECT camera, the CardiArc HD-SPECT, Terrance (Terry) Garner, vice-president of sales and marketing at CardiArc Ltd., says the camera was a hit at the recent Society of Nuclear Medicine annual meeting earlier this month.

"For all practical purposes, people want this product," Garner says. They want it because it provides the sharpest images available, takes pictures at a 180-degree angle, and is a smaller camera to boot.

Because the CardiArc wraps around the patient and is able to image at 180 degrees, it can image the heart more quickly, so the diagnostic procedure is faster than with conventional SPECT cameras. Other cameras can only use one angle and have to be continually moved to image the entire heart, Garner says.

Garner points out that the downside to the CardiArc is that its count rate--or the ability to gather information--is lower than in conventional SPECT cameras. But the CardiArc compensates for this because it's resolution is so high.

Building Efficiency

"The hot button today in cardiac systems is building efficiency. While CardiArc is doing that by utilizing the entire detector surface, others are increasing the count rate by improving their software," Garner says.

Garner was impressed enough with the CardiArc camera and with its inventor, Jack Juni, M.D. -- an internationally renowned nuclear physician and designer who founded CardiArc in 2000 -- that Garner left his job in medical affairs at Bristol-Myers Squibb Medical Imaging after 16 years with the company and joined CardiArc in 2007. The company is headquartered in Canton, MI.

At BMS, Garner provided clinical, technical, educational and research support for customers worldwide and he will do the same for CardiArc customers. His career in nuclear imaging has spanned 30 years.

FDA Approved

While the system won FDA approval in 2006, some of its materials have been changed since then and the SPECT camera is just being launched at a price of under $300,000.

Currently, Garner is selling the camera both to hospitals and to cardiology offices.

"Doctors can't use conventional systems in their offices because they take up too much space," Garner says. "This camera will fit into a standard examining room."

Garner says CardiArc has shipped its first machine to Emory University in Atlanta, where researchers will test the machine against conventional SPECT cameras. A second machine is ready to ship to the Cleveland Clinic also to compare the fast-scan protocol. A third has been sold to a cardiology practice in the Detroit area.