by
Robert Garment
, Executive Editor | September 10, 2008
DOTmed's new commission-free Request for Proposal is a time-saving service that easily lets Buyers and Sellers of equipment CONNECT DIRECTLY online and close a transaction faster.
HERE'S HOW IT WORKS:
1.) If you're a Buyer, just tell us the kind of equipment you want. We'll immediately notify hundreds of qualified Sellers.
2.) Serious Sellers will make their best offers, which will only be visible to you.
3.) We'll create a unique RFP Page on DOTmed.com where you can conveniently compare the prices and the ratings of the Sellers -- you control the transaction.
4.) Negotiate with the Sellers you choose, and purchase at any time.
The DOTmed RFP Set-Up fee is only $250 -- which is a small price to pay to save time and have Sellers come to you and offer the exact equipment you need.
Money Back Guarantee: If you don't receive any legitimate offers, DOTmed will refund the $250 Set-Up fee.
Go here to learn more:
https://www.dotmed.com/RFP
.
THE BENEFITS TO SELLERS:
1.) You receive leads ONLY from serious Buyers who have paid to contact you.
2.) You receive leads straight to your inbox.
3.) Your offers are only shown to the Buyer*
4.) You can communicate directly with the Buyer at any time.
5.) There is no cost to participate as a Seller.
* Upgraded Seller's offers are shown first with their contact information displayed, but Upgrades are not required to participate. The Upgrade is just $75/month.
TO START RECEIVING LEADS:
Tell us the type of equipment you sell so we can notify you when Buyers are in the market. To do this, update your Equipment Categories by
Clicking Here
--log-in required.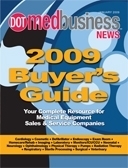 IMPORTANT BONUS:
When you follow the instructions above, you will automatically generate a Free Listing for yourself in DOTmed's 2009 Buyer's Guide.
For more information, call 212-742-1200 Ext. 296