by
Robert Garment
, Executive Editor | May 14, 2009
Alpharetta, GA --
MedicalMissions.org
functions like any other job website. Employers post job opportunities and job seekers submit their resumes. However, the similarities end there. Every opportunity posted on MedicalMissions.org job board is an unpaid volunteer position, designed for charitable organizations and experienced physicians, nurses and rehab specialists to communicate volunteer interests and needs.
The idea for the site took root in the coordination of a medical mission trip
Jackson Healthcare
recently sponsored.
"We discovered this amazing opportunity when coordinating a recent medical brigade to Honduras," reports Richard Jackson, Chairman and CEO of Jackson Healthcare. "We were extremely encouraged by how many physicians were willing to volunteer two weeks to provide needed surgical and medical services to regions that don't have it."
All volunteer spots available for the medical brigade to Honduras were filled within 72 hours.
That led Jackson to discover that its biggest hurdle was not finding enough medical specialists willing to volunteer. The problem was finding enough opportunities to meet the volunteer demand.
In an effort to solve this problem, Jackson Healthcare Charities financially backed and launched MedicalMissions.org, in partnership with Jackson & Coker, LocumTenens.com ,Travel Nurse Solutions and Jackson Therapy Partners. It is a philanthropically supported site that will not use ads or sponsorships to offset costs. With hundreds of medical professionals interested in volunteer opportunities abroad, their goal is to get the word out to organizations seeking these types of volunteers.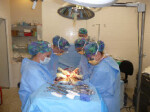 "We want organizations who seek health-related volunteers for short and long term opportunities to leverage this new web tool to their advantage," says Jackson. "There's no cost for them to use this site, except their time. Our goal is to be a catalyst for serving the underserved around the globe."
He added, "We also want medical professionals with a passion for overseas mission work to post their professional profiles so that these organizations can connect with them."
Jackson says he was "warmed" by the enthusiasm and support physicians showed in wanting to give back in service to those less fortunate. "It proves that, despite the challenges with the U.S. health system, we're blessed with many medical professionals who are in this industry to truly care for others."