by
Astrid Fiano
, DOTmed News Writer | July 08, 2009
Viable Med Services, Inc. is about to celebrate its fourth birthday this August.
Dan McGuan
, President, started the company from his kitchen in Los Angeles after 15 years with Hitachi Medical Systems in field service, R&D and technical support.

Quest Imaging Solutions provides all major brands of surgical c-arms (new and refurbished) and carries a large inventory for purchase or rent. With over 20 years in the medical equipment business we can help you fulfill your equipment needs

McGuan saw Viable Med as filling a need in Hitachi-trained service providers for the U.S. installed base of open MRI systems. In the service business since 1980, he also wanted to provide what he had learned over the years--a philosophy of meeting customer needs. These include maximizing and maintaining image quality and system performance, all with minimal disruption of patient schedules.
"At the beginning we were on the road all the time, building our customer base, and delivering the old-school message," McGuan says. Since then Viable Med has grown to have a national presence, featuring three parts warehouses and two offices across the county.
"We like to think of ourselves as the number one alternative to OEM service, and we will continue to do what must be done to earn this title," he says.
Viable Med provides open MRI services for Hitachi's highly successful MRI products, including Hitachi's MRP, AIRIS I and II, Elite and Altaire product lines, on which Viable is industry- and peer-ranked as experts. In addition, McGuan says Viable maintains the largest after-market parts inventory for Hitachi MRIs available worldwide.
McGuan explains, "In today's ever-changing health care environment, new customer requirements emerge daily. Viable Med listens to these needs and then positions itself to provide cutting-edge service solutions to drive customers' strategic growth, while always maintaining excellence in patient care."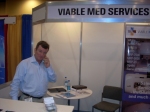 Most of Viable's staff of service professionals have 20 to 30 years in the industry. McGuan points out that Viable also has staff experts on Toshiba MRI, and CTI and Siemens PET systems. The company has recently expanded into the Siemens high-field MRI market. All of the technical specialists are experienced field service engineers and manufacturer-trained.