by
Rabia Paracha
, Staff Reporter | July 03, 2009
Each year, hundreds of patients in the economically developing area of Kabul, Afghanistan do not receive proper medical aid because the resources simply do not exist. While many suffer from lack of health care, U.S. hospitals discard millions of dollars worth of medical supplies for various regulatory reasons.
Seeing an opportunity to bridge this need to this surplus, MedShare, a Georgia-based nonprofit with an environmental and humanitarian impact of international scope, connected medical care in Afghanistan to the resources of the United States.
On June 23, MedShare, shipped a 40-foot container of medical supplies and equipment collected within the United States to Afshar Hospital, a new medical facility in Kabul, Afghanistan. Made possible with sponsorship from American Medical Overseas Relief (AMOR), a nonprofit based in Fresno, CA, the medical aid container consisted of more than 800 boxes of vitally needed supplies, including surgical gloves, IV sets, and sutures. A portable ultrasound system, a X-ray unit and surgical lights were also shipped.
Valued at over $177,000, MedShare collected the supplies and equipment from Northern California hospitals through its innovative medical surplus recovery program. Through the program, the hospitals that agree to donate are given collection barrels and educational training on the materials needed for recovery. Materials are then collected routinely from each site, identified, and evaluated by MedShare volunteers and staff. Once supplies are sorted, they are entered into an online inventory database, where the recipient in Afghanistan can custom order all the needed supplies for their shipping container online.
"The donated medical supplies are all unused, unexpired supplies collected from Northern California hospitals under our supply recovery program. For various regulatory reasons, hospitals must discard of certain surplus medical supplies. Rather than discarding these supplies into a landfill, they donate them to MedShare, where they can be redistributed to those in need, like in this hospital in Afghanistan," Chuck Haupt, Executive Director of the MedShare Western Region, told DOTmed.
According to the CIA World Factbook, the overall life expectancy in Afghanistan is estimated to be less than 44 years. In addition, 142 out of every 1,000 babies born will die before reaching their first birthday and one woman will die in pregnancy every 27 minutes.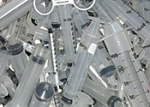 "Rather than go into landfills, these donated medical supplies and equipment will have a second chance to save lives in war-torn Afghanistan. We are excited to join AMOR in their endeavors to improve the quality of life in this country," said Chuck Haupt, Executive Director of MedShare's Western Region.