by
Rabia Paracha
, Staff Reporter | July 22, 2009
Analog-based cathode-ray tube (CRT) medical display monitors are quickly diminishing from the market with the advent of high-resolution digital-based liquid crystal display (LCD) monitors. The advantages of LCD monitors are numerous--they provide sharper images, lighter screens, longer life cycles, eliminate downtime, and have increased overall product quality. The one drawback, typical for any relatively new technology, is the cost.
Because of tight budgets, medical imaging specialists continue to use their CRT monitors.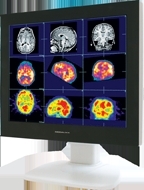 However, could the benefits and return on your investment more than offset the cost of making the switch from a CRT to LCD?
To find the answer, DOTmed interviewed key medical imaging product specialist Ampronix.
Ampronix reported that while CRT monitors were ideal in the past, "old" technologies may be problematic for hospitals for many reasons including:
· Expensive, frequent repairs
· Replacing hard to find parts such as CRT tubes
· High costs due to transporting heavy monitors
· Substandard picture quality and outdated technology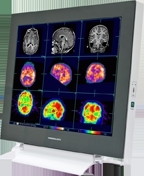 Jim Baker, Director of Sales for Ampronix, believes there are options out there for hospitals and health care facilities that see the value in investing in LCD units. "Even the best technology will not be effective if no one can afford to have it. We realize this and have invested time and money in coming up with a solution for our clients," he says.
Ampronix's solution to the current industry-wide dilemma brings the latest in liquid-crystal-display (LCD) technology to the forefront of the healthcare-imaging market. Their solution--the Modalixx LCD monitor.