St. Jude's Wi-Fi* Pacemaker Wins Approval
by
Lynn Shapiro
, Writer | August 12, 2009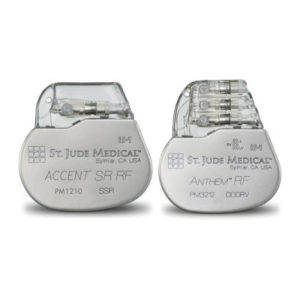 FDA in late July approved St. Jude Medical's wireless pacemaker and resynchronizer, the first wi-fi devices to hit the market, Amy Meyer, a St. Jude spokeswoman, told DOTmed News this week.

Meyer says a CRT-P resynchronizes the beating of the heart's lower chambers, which often beat out of sync in heart failure patients. She says the wi-fi device lets doctors view heart patients' implanted devices remotely. Wireless communication is used when clinicians implant the device and during follow-up appointments, which can be performed in the clinic or via remote monitoring from the patient's home, the company says.

Patient device follow-up can be scheduled to take place automatically in a hands free manner, with no patient interaction required. Information from the device is then captured by the Merlin@home(r) transmitter, and becomes available for viewing by the clinician via Merlin.net PCN. In addition to fast access to device data, Merlin.net PCN also allows physicians to compile a more complete patient record, by easily transferring cardiac device data into electronic health records.

Simplified Patient Management

The devices have several features that simplify patient management, the company says. These features include AT/AF Alerts, AutoCapture(r) Pacing System technology that measures the heart's reaction to pacing beat-by-beat, and the VIP(r) algorithm that enables the heart's intrinsic rhythm to prevail when appropriate, thereby reducing unnecessary ventricular pacing.

The AT/AF Alert feature helps to better assist physicians in accurately diagnosing and managing patients with fast rates in the heart's upper
chambers, called the atria.

This feature is designed to notify physicians when a rapid atrial rate, atrial tachycardia or atrial fibrillation (AT/AF), exceeds a programmed value or occurs over an extended period of time. The devices also can be programmed to notify the patient of AT/AF episodes, as well as device- and lead-related issues, through a two-tone audible alert. In addition, the patient's clinic can be informed through the home monitoring system.

"The automatic alerts provided by the RF telemetry built in to the Accent RF and Anthem RF devices enhance my ability to manage patients' heart conditions and disease progression, something that is particularly important for patients with heart failure or other co-morbidities," says Steven Greenberg, M.D., coordinator of the Arrhythmia and Pacemaker Center at St. Francis Hospital in Roslyn, New York. Dr. Greenberg tested the wi-fi devices, leading to their approval.

You Must Be Logged In To Post A Comment
Registration is Free and Easy.
Enjoy the benefits of The World's Leading New & Used Medical Equipment Marketplace.
Register Now!