Radiation Therapy for Prostate Cancer Has Few Side Effects
by
Brendon Nafziger
, DOTmed News Associate Editor | September 30, 2009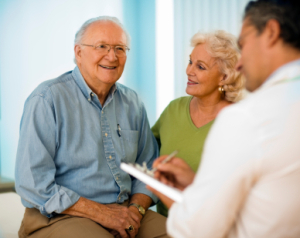 A sixteen-year retrospective study suggests that treating recurring prostate cancer with radiation causes few side effects, according to a paper appearing next month in the journal Radiotherapy and Oncology.

The study covered 308 patients from 1987 until 2003, and found most had few, or mild side effects after radiation therapy was used as a last resort to treat resurgent cancer after prostate surgery.

Side effect fears

Following a diagnosis of prostate cancer, about one-third of men will have the prostate completely removed, according to Jennifer Peterson, M.D., lead author of the study and a researcher at Mayo Clinic's Jacksonville, FL campus. Of these men, another third will have prostate-specific antigen levels (PSA) above 0.1 -- a biological indication that cancer has likely returned.

"Really the only curative treatment at that point is to...offer radiation to the prostate bed," Dr. Peterson tells DOTmed News, in a treatment known as salvage external beam radiotherapy.

Yet some urologists, worried about radiation-induced side effects, instead suggest watching and waiting, or even hormone therapy which, by blocking testosterone, can sometimes temporarily delay but not defeat the cancer, Dr. Peterson says.

One of the urologists' worries is that radiation could interfere with post-operative healing. "Any time you surgically reconnect something, there's concern about radiation exposure" interrupting that, Dr. Peterson says.

But of the people covered in Dr. Peterson's study, most were basically side-effect free: Only around 13 percent had any side effects at all -- mostly mild, such as slight narrowing of the urethra, more frequent bowel movements or even a bit of rectal bleeding. And only four patients had the more serious so-called grade 3 or 4 side effects, bladder or bowel problems requiring surgical intervention to fix.

However, erectile dysfunction -- a known side effect of both prostate removal and post-op radiotherapy -- was not studied by Dr. Peterson, so she doesn't know how widespread it is following these treatments.

Although side effects for the treatment were few, Dr. Peterson believes the advisability of the treatment has to be looked at on a case-by-case basis.

"It's really patient and disease dependent," she says. "A lot of patients can live many years with rising PSA, with metastatic prostate cancer."

"The really best candidates [for radiotherapy] are those with low PSAs after prostatectomy," she adds. "They typically have the best outcomes."