Want to Dissect a Human Cadaver? There's an App for That
by
Brendon Nafziger
, DOTmed News Associate Editor | October 28, 2009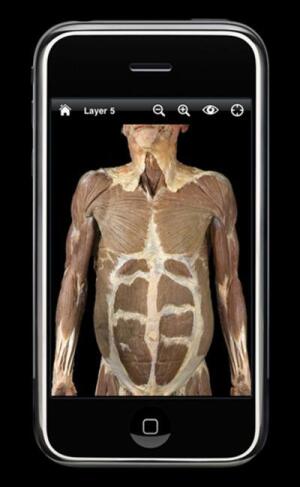 If you ever wanted to dissect a human cadaver but didn't go to medical school, here's your chance: University of Utah researchers have released Anatomy Lab, an iPhone app that lets you peel through 40 layers of a real human cadaver.

"It's pretty darn comprehensive," Mark Nielsen, a biology professor at the university and one of the designers of the app, tells DOTmed News. "Pretty much anything you can dissect, you can see."

Intended largely for students, Anatomy Lab lets users "cut through" around 40 anatomical layers of a male corpse. About 300 structures are labeled, and highlighting different features of the body reveals over 600 pages of explanatory text.

"Each layer removed reveals more of the anatomy," says Nielsen. "Take off the skin, see the subcutaneous fat. Then take off the subcutaneous fat, and you can see superficial veins, then the nerves, then many layers of muscle dissection. [Once you get] into the body cavity, you can remove each organ at a time, [until you get] right back to the posterior wall of the body."

"It's got a lot of information," he adds.

If it's too much for an amateur anatomist, don't fret. Nielsen has also released My Body, a simplified version for the general public, with only the 10 most representative layers on view. In this app, users can drag their finger over the cadaver to spin it around 360 degrees.

Father-son project

The app was something of a family affair for Nielsen, who helped dissect the cadaver used as a model on the program.

His son, Scott, an undergraduate majoring in physics at the University of Utah, worked up the iPhone code. "He's done a little bit of programming," Nielsen says. "I asked him if he had done any on the iPhone, and he said he could probably figure it out, and in less than month he made this sophisticated program."

The app is based on Real Anatomy, a DVD program for a medical textbook Nielsen co-wrote for Wiley and Sons last year. Nielsen designed Real Anatomy with his lab assistant Shawn Miller, a Ph.D. student in anthropology at the University of Utah.

"The DVD is very neat," he says. "You can just put a little more on a DVD."

But Nielsen isn't finished with his app yet. He plans to deliver updates, such as dissection of the female reproductive anatomy (the cadaver on the current app is male).

He's also working on a sequel that concentrates on musculature. "It's more of a flash card... type program," he says. He expects it will feature built-in quizzes to help students learn and memorize different muscle systems in the body.

Since debuting in July, Anatomy Lab, which sells for $9.99 a download, has moved 3,300 copies, according to the University of Utah. My Body, launched in August, costs $1.99. Both apps can be downloaded from Apple's iPhone store.

Interested in medical applications for the iPhone? Keep an eye out for a feature story in the March 2010 issue of DOTmed Business News.