FDA Announces Class 1 Recall of LIFEPAK Defibrillators
by
Brendon Nafziger
, DOTmed News Associate Editor | April 23, 2010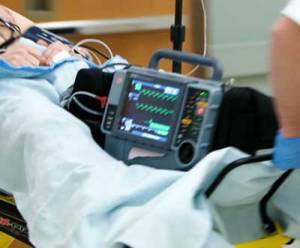 The U.S. Food and Drug Administration issued its most serious product recall on Physio-Control's LIFEPAK defibrillators Thursday, warning that the life-saving machines could shut down or turn on by themselves.

Once it turns on or off, the machines could then stay that way, the FDA said in a statement announcing the Class 1 recall.

Medtronic subsidiary Physio-Control blames the problem on a manufacturing defect involving an internal component that could cause an electrical short.

The recall applies to the LIFEPAK 15 monitors/defibrillators manufactured and distributed between March 26, 2009 and December 15, 2009.

The LIFEPAK defibrillators deliver jolts into the heart to revive patients stricken with sudden cardiac arrest. While the shorting could cause the device to fail, LIFEPAK says there are no known adverse incidents related to the recall.

The news comes only months after the FDA cleared the company to resume full domestic sales of its LIFEPAK defibrillators after nearly three years of a voluntary moratorium. In January 2007, the FDA docked the business for what it said were failures to properly investigate possible product defects. Physio-Control re-started full sales in February, after the company agreed to implement tougher quality control measures - measures the company now credit with helping catch the problem before anyone got hurt.

"This is an example of our quality system working the way it was designed to," said Physio-Control president Brian Webster in a statement. "We were able to detect this potential issue early, it was investigated, a solution was found and is being implemented. Our goal is to minimize issues in the field and maximize patient safety and customer satisfaction."

The company says it notified its customers about the problem March 4, 2010, and has begun servicing devices at no cost at most customer locations.

Headquartered in Redmond, Wash., the 55-year-old company is one of the pioneers of defibrillator technology.

Minneapolis, Minn.-based parent company Medtronic's stocks took a small tumble Thursday, closing at $44.15, down 1.16 percent.