NRU re-start hearing rescheduled
by
Brendon Nafziger
, DOTmed News Associate Editor | June 28, 2010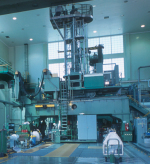 An earthquake and an airborne radioisotope convinced the managers of one of the world's most important suppliers of medical isotopes to ask the Canadian Nuclear Safety Commission to bump back the date for a hearing to decide whether to re-start its nuclear reactor.

The date of the public hearing to re-start the National Research Universal Reactor, an aging producer of molybdenum-99, the parent isotope of technetium-99, used in nuclear medicine scans, has been pushed back to July 5, the CNSC said.

The hearing was originally scheduled for today. The delay came at the request of the Atomic Energy of Canada Limited, which runs the NRU Reactor in Chalk River, Ontario, the CNSC said. The AECL wants extra time to ensure a small earthquake that rocked the Ontario-Quebec border June 23 caused no damage, and to conduct a further analysis of trace amounts of airborne tritium, a radioisotope, detected by NRU's sensors. The tritium levels detected fell below regulatory limits, the AECL said.

The NRU Reactor, believed to account for about 40 percent of the world's supply of Mo-99 in its prime, has been off-line since last year when a heavy water leak was discovered in one of its vessels.

The tricky, complicated repairs of the plant, requiring the design of specialized tools and months of training repair crews, have been wrapped up, the AECL reported June 17.